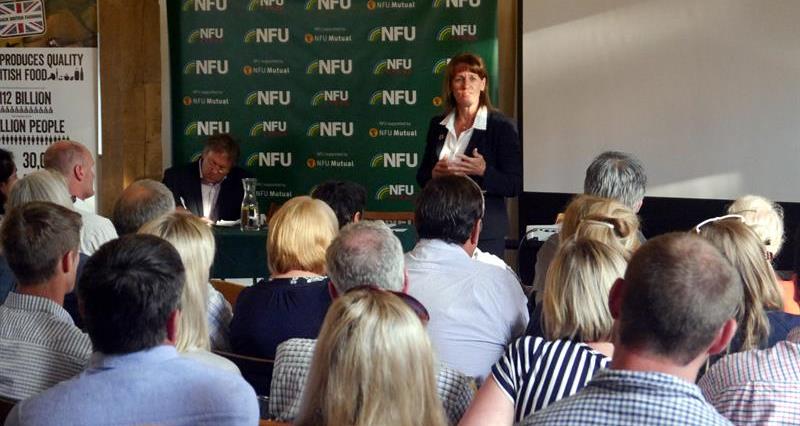 NFU President Minette Batters has told Cornish farmers that future UK agricultural policy must have active farmers at its heart and be committed to food production.

Speaking to a packed meeting attended by nearly 150 farmers at Nancarrow Farm near Truro, Mrs Batters said that the next few months would be 'crucial' for British farmers as October 31 drew nearer, the date by which both Jeremy Hunt and Boris Johnson, the candidates to be the next Prime Minister, had pledged Brexit would happen.

"There's a massive leadership role for us in shaping a future that will see the biggest seismic change since 1947, our role is critical," she said.

"A no-deal Brexit will be catastrophic for the agricultural industry. I am sometimes told I should be more optimistic and say things will be alright, but everything I have learned over the last couple of years leads me to believe it would be disastrous for our industry and I have responsibility to be honest about that."
Mrs Batters told the meeting, which was sponsored by Savills LLP, PKF Francis Clark and Stephens Scown, that her concerns about 'no deal' were based around Brexit being seen as an opportunity to import cheap food produced to animal welfare standards that would be illegal in the UK, and the imposition of export tariffs which would potentially decimate overseas markets.
But she said that if the UK left the EU in an orderly fashion, there was the opportunity to create a robust and resilient future for the industry.
"There are huge challenges across all sectors and there is what I call the need to 'smash some glass', as we have a commitment from Government that they will take a step back from direct support and instead focus on public monies for public goods, and the market can get on and do its job."
"Future agricultural policy has to have food at its heart, be committed to active farmers, be committed to food production. It must not permit imports of food produced to standards that would be illegal if the food was produced in this country, and thirdly we must have a long-term multi-annual budget as we will be competing with other priorities like the police and the NHS."
Minette also talked about agriculture's ambition to be 'net zero' for carbon emissions by 2040.
"Climate change is the challenge of our times and we are part of the solution, the only industry which is both a source of carbon and a sink. The future has to be about building a sustainable industry," she said.
Following her speech, Mrs Batters was joined by Gareth Rowe, head of Savills rural professional team in Truro, Brian Harvey, partner and head of agriculture at PKF Francis Clark, and Phil Reed, partner and head of rural services at Stephens Scown for a question and answer session umpired by Cornwall NFU chairman Jon Perry.
The panel fielded questions on issues including climate change, the availability of seasonal labour and commodity prices before the attendees enjoyed some supper.

Gareth Rowe said: "From labour shortages to TB and from net environmental gain to tenancy reform, Minette Batters captivated the audience. With a mastery of her brief and a clear vision of the way forward, Minette is an inspirational leader of farmers and growers. Savills is delighted to support the NFU president's visit to Cornwall and to have taken part in a lively Q & A discussion with the farming audience"
Brian Harvey said: "It is always a privilege to listen to Minette. When she speaks people listen, and hopefully this will also apply to the new PM! She is so passionate about the industry and representing NFU members, just what is needed to represent the farming sector in what will no doubt be challenging times in the months ahead".
Phil Reed said: "Minette's 'state of the nation' address spelt out to Cornish farmers that there is clearly a lot for UK farming to prepare for and to adapt to, but at a local level the industry can and should start to prepare for change".
Mark Pilcher, a farmer from Zennor who attended the meeting, said: "It is good that we have someone of her statesmanship and stature defending our little corner that is farming. We face a time of total uncertainty, a perfect storm if you like, and thankfully we have an eloquent yet hard lady at our helm. To be honest, I could have listened to her all night."

At a meeting with some of the county's biggest fruit, vegetable and flower growers earlier in the day, Mrs Batters re-iterated the NFU's commitment to making sure the number of overseas seasonal workers included in the pilot scheme that was introduced in March this year was increased.
"Two-and-a-half-thousand doesn't even touch the sides of what is needed. We need the full whack of at least 60,000 – in fact we need to be aiming for 80,000 and this needs to be in place by the end of the year."