Herefordshire farmers and charity supporters are set to enjoy the best possible start to the day at a breakfast event at Ewyas Harold.
Proceeds from the English breakfast fundraiser on Friday, 11 March, will go to the Addington Fund which helps support the farming community.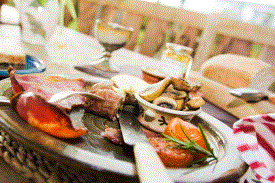 The event will be at the Temple Bar Inn, HR2 0EU, breakfast will be served from 9.30am with last orders taken at 11.15pm.
A donation of £5 per person is suggested and people need to book by calling the charity on 01926 620135 and selecting option three.
The event is supported by award winning sausage business Debbie and Andrew's.
Addington is one of the farming help charities and its main area of work is to provide homes for farming families living in England and Wales who have to leave the industry, through no fault of their own, and by doing so will lose their home.
In times of emergency and where hardship prevails they can also assist with grants towards certain business costs.
For further details email ZXZlbnRzQGFkZGluZ3RvbmZ1bmQub3JnLnVr