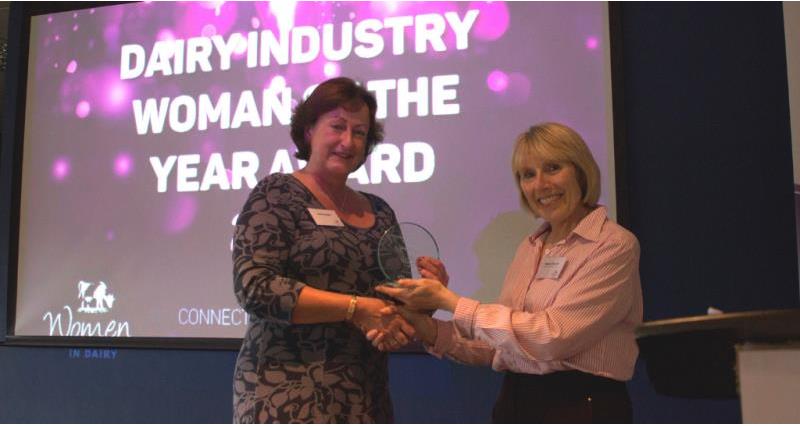 Announced at the fourth annual Women in Dairy Conference on Wednesday 19 September, the Dairy Industry Woman of the Year Award celebrates the achievements of women in the British dairy industry.
The award is given to someone who connects with the industry and public, inspires others and shares their experience and knowledge. Two winners were chosen to recognise those contributing to the Dairy industry at both a national and regional level.
Women in Dairy patron, Di Wastenage, said all it had been a privilege to read all of the inspiring nominations: 'The conference and awards are our opportunity to showcase the diverse roles, strengths and talents within our sector and I have no doubt that our industry is in safe hands!'
The Regional Award was presented to Ceri Cryer, a farmer and award winning cheesemaker from Wiltshire. She has established a business selling premium dairy products under the Brinkworth Dairy brand to local markets and the London Farmers Markets.
This year, Staffordshire dairy farmer Janette Prince was crowned as the national winner. Janette runs an organic dairy farm with her husband Chris and sits on the regional NFU dairy board, AHDB Dairy board and is Staffordshire NFU Mutual regional representative.
Janette was a founding member of the Staffordshire Women's Farming Union and also Vice President of the Staffordshire YFC. She said: 'I have been in the dairy industry for about 35 years and feel privileged to have been acknowledged and chosen as the winner. Throughout these years I have worked with some great people and have been doing a lot of the 'backroom stuff', for example working on food assurances and making sure we get the best policies going forward.'
As well as a dairy unit, Janette has also established a campsite on the farm. Educating people on where their food comes from has never been more important, and an on-site campsite provides Janette with the opportunity to do this: 'I encourage visitors to come and see the cattle and how the milk is produced – we are essentially hosting an Open Farm Sunday every weekend!'
Looking to the future, Janette hopes that we will see more women in the industry: 'I would like to see more ladies around the table. I think we bring a different angle, often seeing things on a broader scale and from the customers' point of view.'