A Warwickshire MP was out on farm for the wheat harvest and spoke about industry issues with the NFU, giving his backing to British food and farming.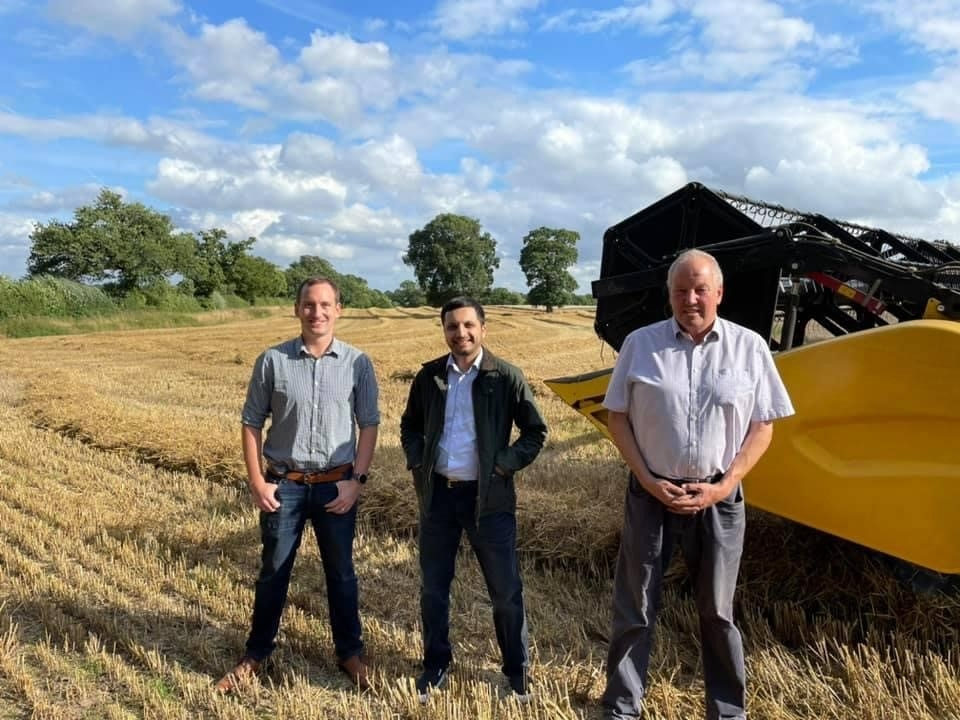 Meriden MP Saqib Bhatti was on farm with Warwickshire NFU chairman Rupert Inkpen, near Hockley Heath.
The meeting a few weeks ago was set up with NFU county adviser George Bostock and he discussed trade deals, wildlife control, rural crime and the Farming Rules for Water among other issues.
Saqib Bhatti said: "It was great to discuss recent developments in rural and farming policy to ensure we are doing all we can to back our brilliant British farmers who are pioneering a new future of climate friendly farming.
"To farmers in my constituency and across the country, thank you for all that you do in feeding the nation and championing our iconic British countryside."
The MP also stressed the importance of the Warwickshire countryside. Survey results, produced for the NFU, show our rural areas, which have been shaped by generations of farmers, have been a lifeline to thousands of people during the pandemic.
More than eight out of 10 people questioned (87%) said that visiting the countryside and farmland during the pandemic had improved their physical or mental wellbeing.
More than half of those surveyed said being out it the farmed landscape had improved both.
Mr Bhatti added: "As we have a national conversation around the importance of mental health and wellbeing, we must acknowledge the contribution played by our great British countryside.
"The union's recent wellbeing survey data shows just how critical the countryside was in supporting people's mental and physical health through the course of the pandemic.
"I thank the NFU for championing the importance of wellbeing amongst our rural communities."