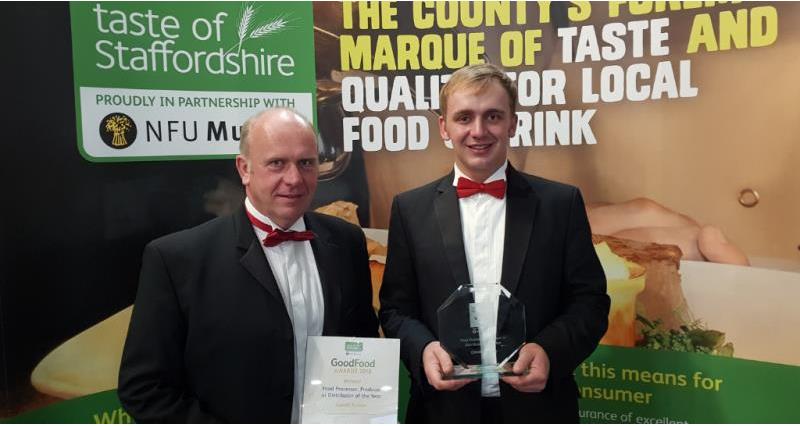 The 2018 Taste of Staffordshire Good Food Awards saw a number of NFU members receiving recognition for their businesses and taking first place in their categories.
Held at Uttoxeter Racecourse on 22nd October, the awards provide an opportunity to celebrate the best Staffordshire food and drink businesses, as well as the contribution they make towards Staffordshire tourism.
There were 11 categories, including restaurants, pub, tea room and farm shop. To be considered, businesses had to undergo an independent inspection of the quality of their food and drink, where it comes from, as well as their standards of customer service and hygiene.
Farm Shop of the Year
On the Staffordshire and Derbyshire border, Denstone Hall Farm Shop is part of a beef and arable farm, with a shop and café run by Rupert and Emma Evans. The shop is stocked with produce from the farm and wherever possible, high quality local produce. This year, Denstone Hall Farm Shop also took home the Special Achievement Judges Choice Award. Moving from strength to strength, Rupert is really pleased that the farm shop has received regional recognition: "Having won a national award earlier this year, we are really thrilled to have been recognised on a county level as well. This award is a great accolade for our staff and is testament to their hard work and dedication."
Afternoon Tea of the Year
Essington Farm, a family run business near Wolverhampton, was crowned winner of the Afternoon Tea of the Year Award. Since 1892 the Simkin's have been retailing quality produce from their farm, including free-range pork and Hereford beef. In 1990 they opened their restaurant, so as well as purchasing local produce from the farm shop, customers can enjoy traditional fresh home baking. As well as winning the Afternoon Tea of the Year Award, Essington farm was also the runner-up of the Farm Shop of the Year Award and third place as Food Processor, Producer or Distributor of the Year.
Food Processor, Producer or Distributor of the Year
The Calcott family have been farming at Wigginton Fields Farm, Tamworth, since 1980. Richard Calcott began the turkey business when he was 16, selling 50 turkeys to local people. Since then, the business has continued to grow and Calcott Turkeys now produce 2,000 turkeys supplying butchers, farm shops and local people. This year Calcott Turkeys won the Food Processor, Producer or Distributor of the Year Award, which came as a welcomed surprise. Edward, Richard's son said: "We are proud of what we do. We like to keep everything about our turkeys local and make a real connection with our customers; local food for local people produced in the most traditional way."
Read more...