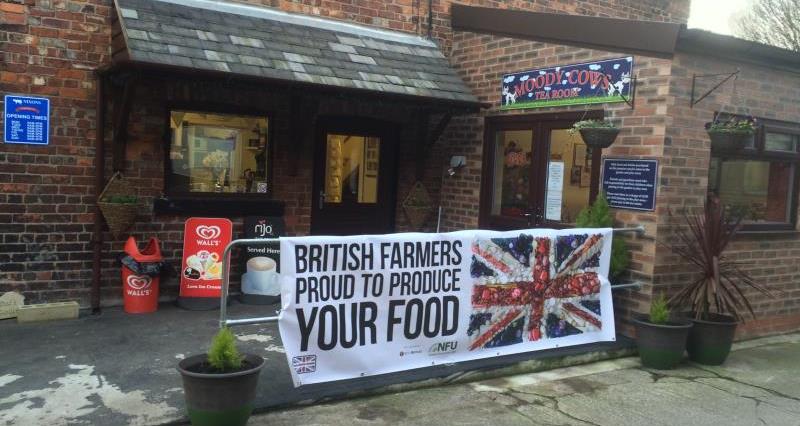 Nixons Farm, Cheadle
We're printing extra supplies of our new field banners to keep up with demand after more than 300 farmers started flying the flag for British produce in just one month.
NFU President Meurig Raymond said: "The food flag design we created on the 'Proud to Produce' banner is an out-and-out celebration of all of the wholesome food that British farmers and growers produce each and every day.
"We are so proud that members from across the country are displaying their banners on their farms. Located on prime sites, farmers are using the banners to grab consumers attention with thousands of people a day seeing our #BackBritishFarming message."
This year has seen an increase of almost 20% more farmers ordering the field banner.

Want to know more about Back British Farming?
Visit Countryside Online, here

One of the first was Julie Egglestone from Nixons Farm in Cheadle.
Julie said: "We wanted our customers to know that we are actually producing the food that they are about to buy and eat, so having our banner up opposite our barn shop and tea room makes it very clear to them. A lot of our customers are very interested in where their food comes from and they make a bee-line for the beef and lamb we rear here on the farm. We have people coming back week after week for our 'proper' sausages and bacon."
NFU President Meurig Raymond added: "The 'Proud to Produce' banners have improved the visibility of our members' farms and are a constant reminder to shoppers to buy local and British produce."