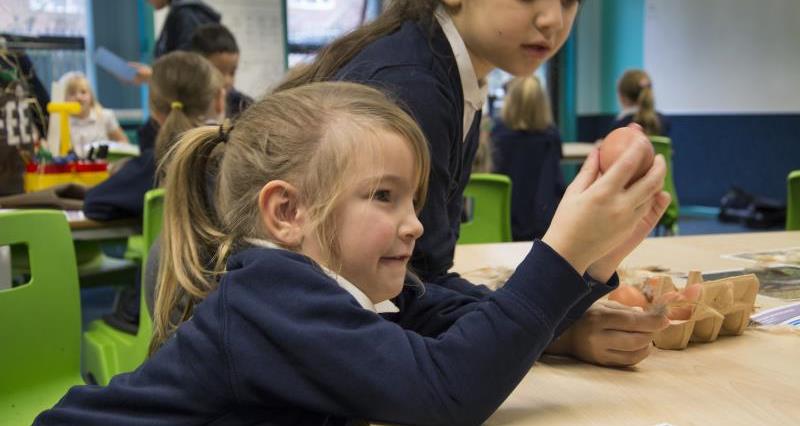 NFU Education was established in 2017 as part of the NFU's drive to reconnect children with rural life, develop their understanding of farming and increase their awareness of the field-to-fork journey. Since then the team has successfully rolled-out education initiatives and teaching resources across England and Wales. Here we take a look back at what they've achieved over the past two years.
Science Farm resources
Science Farm is a range of science lesson plans and activities to teach Key Stage 1 children about food and farming while also meeting the needs of the Key Stage 1 Science programme of study. Linked to the national science curriculum in England and Wales, the teaching packs were designed in a fun and engaging way to help show youngsters what happens to their favourite ingredients from farm to fork. Speaking at the launch of these resources in February 2018, the then NFU Deputy President Minette Batters said there appeared to be a huge lack of knowledge among children of all ages about how and where their food is produced. She said:
"We're really excited with these new educational digital tools that will allow teachers to provide truly memorable lessons where children will get the opportunity to explore where their food comes from and how it's grown.
"We believe passionately about educating young people and we feel strongly that food production should be a core part of the national school curriculum. As farmers it's not just our job to grow the food that we eat but to engage and reconnect with the public including children. Learning about British food and farming from a young age will ultimately help our future generations make informed choices."
Pictured below, a science farm sensory trail lesson at Brambleside school:
Farmvention
Farmvention (when farming meets invention) is a national science, technology, engineering and maths (STEM) competition run by NFU Education and aimed at primary school children. The competition includes problem-based challenges, focused on engaging children with key STEM topics as well as getting them thinking about the everyday challenges farmers in Britain face. In its first year the Farmvention competition attracted over 1000 entries from schools across the UK.
The 2018 Farmvention Champion was Ronald Ross Primary School in London, for their ingenious tractor of the future design: an eco-friendly drone zip line that protects soil structure by sowing, maintaining and picking the crop from above, removing the need for heavy machinery. The grand final took place in the House of Commons where nine winners showcased their designs for the chance to be named Champion and win the grand prize of having their school turned into a farm for a day.
NFU education manager, Josh Payne, said: "We'd like to take the opportunity to thank everyone who submitted their entries and put so much effort and enthusiasm into the project. It's clear that this competition has captured the imagination of primary school children and this shines through in the high quality of submissions we've received."
Pictured below, Ronald Ross Primary School were the 2018 Farmvention Champions:
Farming STEMterprise
NFU Education's latest iniative, Farming STEMterprise, builds on the work of the Farmvention competition by taking children through each stage of a farm business start-up, from growing their own ingredients and using market research to test ideas, to calculating expected profit and designing responsible packaging. The STEMterprise projects have been endorsed by the Association for Science Education (ASE) who applauded the NFU's latest primary education project for its resources which 'breathe life' into STEM subjects. The resources are being promoted through free workshops for teachers and the NFU Education team has already worked with over 500 teachers since launching the resources in January.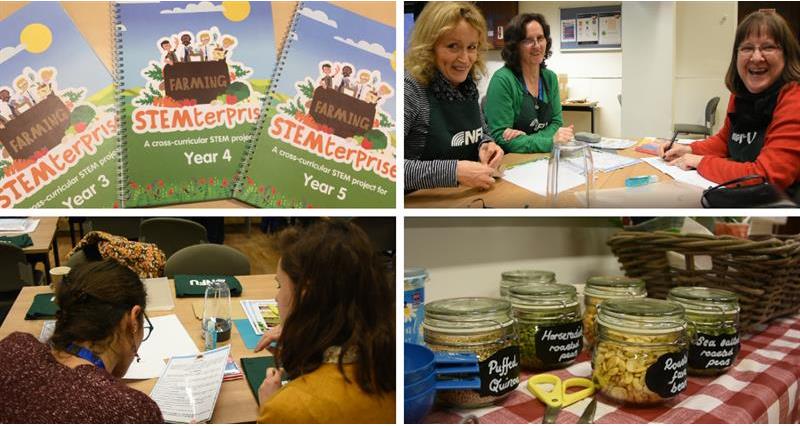 NFU Education in numbers
2026 teachers have signed up to receive updates from NFU Education.
3113 people follow @NFUEducation on Twitter. This week (7 October 2019) the DfE tweeted about Farmvention to their 337,100 followers.
Working with Learn By Design, the NFU has received £25,000 of funding to work with disadvantaged primary schools in Derby, increasing their knowledge of farming and STEM skills.
62 NFU members have already committed to be trained as part of our new Speakers for Schools programme. They will all attend a one day workshop in November.
NFU Education aims to engage at least 50 secondary schools in 2020 with Speakers for Schools.
The NFU's Farmvention compeition had 1025 entries in its first year and is aiming for 2000 Farmvention entries this year.
Over 500 teachers have taken part in a workshop designed to engage and enthuse them with the farming STEMterprise resources. 800 teachers will be trained by January 2020 when the project will be a year old.
1
How to keep up to date with NFU Education: