I was recently invited to spend a day at The Farm Project Community Interest Company (CIC) in Cirencester, a working organic farm that provides residential experiences for children and young people. As a former primary school teacher, I have seen my share of educational and residential visits so I have to admit, I turned up expecting to have a nice time but not to see anything new or especially inspiring- this was not the case.
I joined a group of ten upper key stage 2 children from Manchester for the final day of their visit. When I first arrived, the children were deeply engrossed in listening to Maya, the education co-ordinator, explaining how they were going to use a special egg-weighing machine to sort the eggs that they had collected that morning. The children worked as a team to sort the eggs, place them in boxes of six and label them up. Then they worked out how many eggs they had collected and carried them to the farm shop where they placed them onto the shelves to be sold. The children excitedly explained to me that they had used yesterday's eggs, along with vegetables that they had harvested from the garden and milk they had milked from the cows, to make a quiche that they had eaten for their dinner. Through working on the farm and completing this process with their own hands, these children had witnessed and truly understood where their food had come from- a concept that, despite being on the national curriculum, children in the U.K. have demonstrated in multiple studies that they do not understand.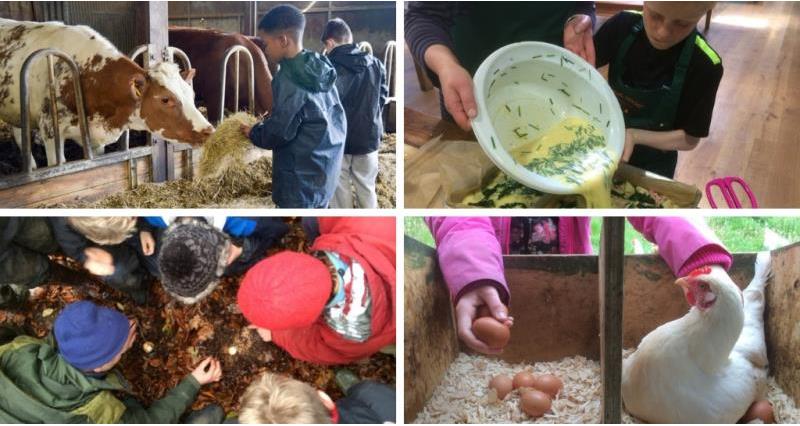 The children chatted confidently to me as we pushed a wheelbarrow of picnic supplies to the woodland where we would be cooking our own sausages and sweetcorn on a camp fire. I heard all about how they had fed the cows and groomed the horses and they shared their top tips for how to look after hens. Later on, while the children were building dens, whittling sticks and collecting pine cones in the woods, their teachers told me that these children had a range of learning and behavioural difficulties; they were all from deprived backgrounds and most of them were not predicted to reach age related expectations in Maths and English by the end of key stage 2.
Unfortunately, the sad reality is that for these children, and so many others who find that externally assessed subjects are not their strengths, the upper key stage 2 classroom is not a rewarding place. As Ofsted have recently recognised, the continued pressure on schools to reach arbitrary targets has led to a systemic 'narrowing of the curriculum' and 'teach- to- the- test mentality' as schools desperately try to jump through enough hoops to survive their next inspection. It is therefore unsurprising that, as schools are facing increasing pressure to improve their test results, their pupils' mental health is crumbling. A recent survey by the National Education Union (NEU) found that 'Mental health issues are on the rise with almost 68% of respondents saying they believe their school is having to deal with more pupil mental health issues than five years ago, and 82% of respondents said that tests and exams have the biggest impact on the mental health of pupils.'
My own experiences of trying to motivate and inspire children within the confines of this broken system were still fresh in my mind as I looked around at the children I had spent the day with. This environment, where they were a team who worked together to conquer new challenges and learn through doing rather than listening, had allowed them to re-develop the confidence and self-esteem that was lost in the classroom. Dressed in their matching mud-covered overalls, completely absorbed in their activities, they looked free. One of their teachers told me: "The Farm Project, in my opinion, is one of the best initiatives that has ever been set up. It provides children (and staff) with a once in a life time opportunity and allows you to see sides of children you never knew were there. They have all changed throughout this week and the transformation has been incredible to see."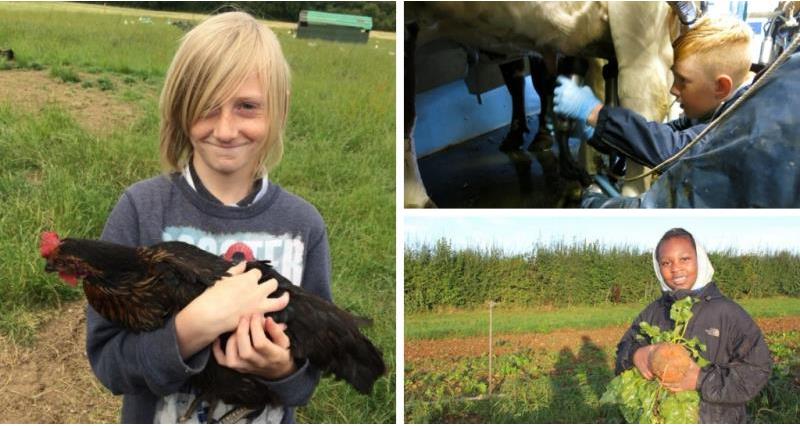 More and more studies are showing the importance of nature to children's wellbeing and happiness, with proven benefits including improved concentration and mental health. Despite this, a 2016 study found that three-quarters of U.K. children spend less time outside than prison inmates. The short time I spent in the company of these children and the inspiring team at The Farm Project CIC really demonstrated to me how vitally important experiences like this one are and I left feeling simultaneously inspired and sad because I understand too well how the ever-increasing budget cuts are pushing life-changing opportunities like this one out of the reach of a lot of schools.
The majority of young people who visit the Farm Project CIC are from disadvantaged backgrounds. For most of the children I met on my visit, trips to the food bank were part of their weekly routine and they had certainly never been to a farm, ran through a wood or pulled a carrot from the ground. The team believe that all children and young people should have this experience and they rely on donations to subsidise the true cost of residential visits, making them accessible to those that need them the most.