Last week, the NFU Education team attended the Association for Science Education (ASE) conference in Birmingham to promote Farming STEMterprise: a brand new range of STEM projects for primary schools.
The Farming STEMterprise projects involve key stage 2 children completing a range of cross-curricular tasks in order to set up their own farm shop business and design, develop, make and market a brand new food product.
The projects take children through each stage of setting up a farm shop business: considering seasonality when deciding which crop to grow, growing their own ingredients, considering nutrition when designing their recipes, using market research to test their ideas out with potential consumers, working within a budget when buying ingredients, designing responsible packaging and much more.
Practical Science and Design & Technology lessons, tailored to each year group's programme of study, are incorporated throughout the projects and opportunities for applying Maths skills to engaging, real life problems are embedded at each stage. Completing this project enables teachers to deliver these key elements of the national curriculum while reconnecting children with where their food comes from in an engaging, practical way.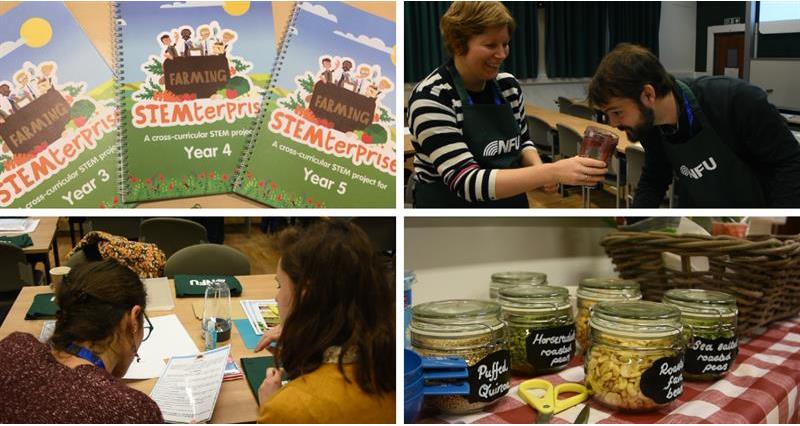 At the conference, the team ran two practical teacher CPD workshops to bring the new project schemes to life and a great time was had by all involved.
Feedback from the teacher CPD sessions included:
"This is a brilliant idea. I can't wait to take it back to school!"
"A fab practical session with fantastic resources to take away. I loved it! Thank you!"
The free Farming STEMterprise projects (which include ten lesson plans, ten power points and all associated resources for each key stage 2 year group) will be available to download from the new NFU Education website from April 2019 but if you would like to get your hands on an exclusive preview copy, sign up to our free CPD sessions in Coventry, Birmingham or Worcester.
If you can't make these sessions, there will be plenty more taking place across the UK this year so keep reading our newsletter for updates on our Farming STEMterprise CPD tour!