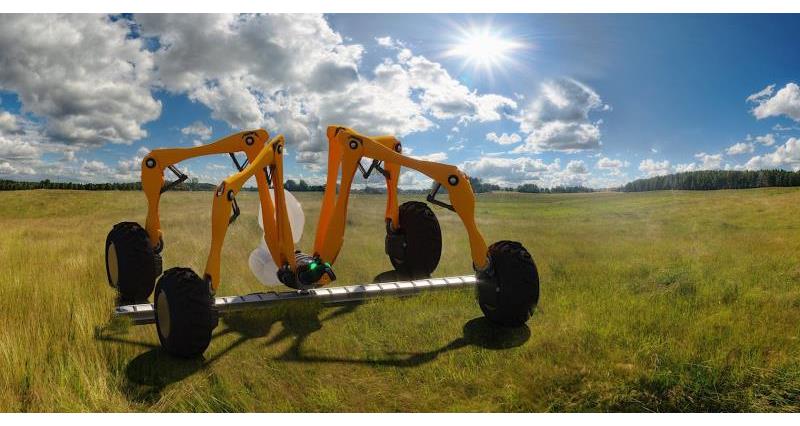 The Small Robot Company, an innovative agritech start-up for sustainable farming, recently confirmed that they will partner with the NFU on our Farmvention competition. This means that we will be adding an additional prize to our 'Tractor of the future' challenge: the three finalists for this challenge will have the once-in-a-lifetime opportunity to work with the company to turn their idea into reality and make a prototype of their design using additive technology!
We caught up with NFU member and co-founder of the Small Robot Company, Sam Watson Jones, to find out all about them.
Tell us the story of how The Small Robot Company started.
I'm a fourth generation farmer. Taking over the family farm after a few years working in technology with Accenture, I was struck by how inefficient farming methods still were. I was also struggling to make a profit while balancing environmental concerns.
Then I came across the work of Professor Simon Blackmore at Harper Adams university, the world's leading expert on precision farming. 15 years ago, while working on soil damage problems, he had an idea. What if we didn't use tractors? What if we used lots of small robots instead? This would enable an entire new model for sustainable farming. Professor Blackmore introduced me to co-founder Ben Scott-Robinson, an experienced technology entrepreneur, who wanted to make this vision a reality. Small Robot Company was born.
We're starting from the drawing board to create a new farming system that makes the very best use of today's technology. We are reimagining farming with robots and Artificial Intelligence (AI) to improve the way that food is produced. We will make farms more profitable, and increase yield and efficiency, by 'digitising' the farm. This will also be much kinder to the environment.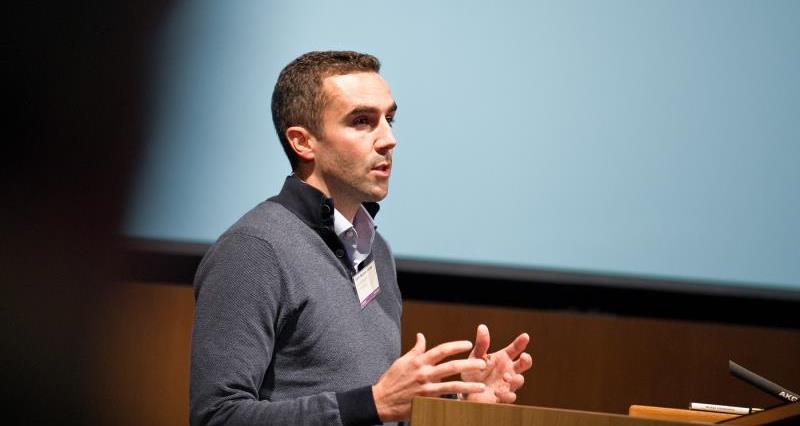 Co-founder of the Small Robot Company, Sam Watson Jones.
What jobs do the different robots do?
Our three small robots Tom, Dick and Harry will take care of all the feeding, seeding, and weeding autonomously. Working in conjunction with Wilma, our artificial intelligence 'nervous system' and brains of the operation, they will only feed and spray the plants that need it, giving them the perfect levels nutrients and support, with no waste. This will cut chemicals and emissions by up to 95%.
Robust per-plant data 'digitises' the field. This creates a 'profit map' that shows which areas of field to use, what to plant where and when, and which to use for 'set aside' biodiversity subsidy. Wilma draws upon a comprehensive big data crop model for autonomous decision-making, enabling each plant to be cared for individually. She will take in the sum of all farming knowledge, including agronomy, soil science and market conditions, coupled with aggregated big data from all farms across the country, and apply it to the information gathered about the crop. Eventually, each process - from knowing when to plant, to all aspects of crop care, to knowing when to harvest - will be automated.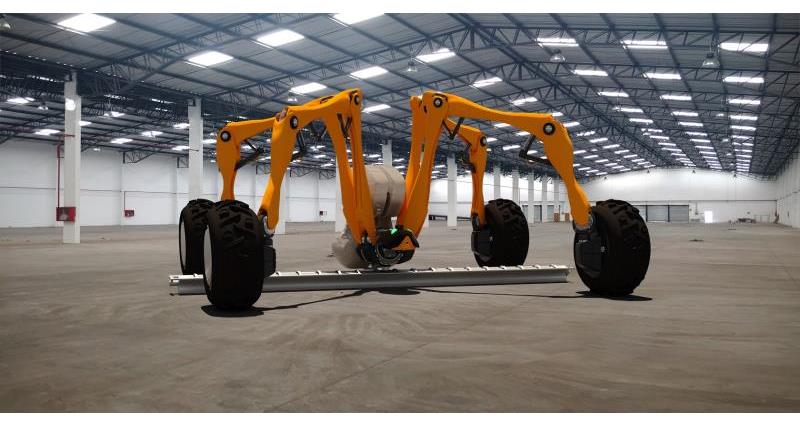 The Small Robot Company's Harry digital planting robot which won a prestigious Horizontal Innovation™ Award from the Institution of Engineering and Technology (IET) and the High Value Manufacturing Catapult (HVMC) to develop the prototype technology. Harry will accurately place seed individually in the ground at a uniform depth to within 2cm accuracy, creating a plant level map showing the location of each seed. By punch-planting rather than ploughing, Harry will also radically reduce soil run off and associated water pollution. With a three metre boom, Harry has an 'arachnid' design, enabling it to fold up compactly for transport by transit van.
How do you think farming will change in the next ten years?
Our vision is to automate and digitise arable crop farming. Farming is arguably the last analogue industry. The potential for efficiency here is phenomenal, and the environmental benefits this then bestows are immense. It's the ultimate sustainable farming model.
Robotics technology will be commercialised within three to five years and mainstream at scale within ten. This will entirely change what is possible on the farm. In a nutshell, we're talking about the ability to apply permaculture techniques at scale - using gardening tactics such as companion planting, but for broadacre crops. Different crops could be planted alongside each other in the same field, and harvested at different times.
Longer term, with rising global populations, yield has been the problem. Technology is finally developing quickly enough to 'feed the world' within 20 years. Any impediments will be political, rather than agricultural.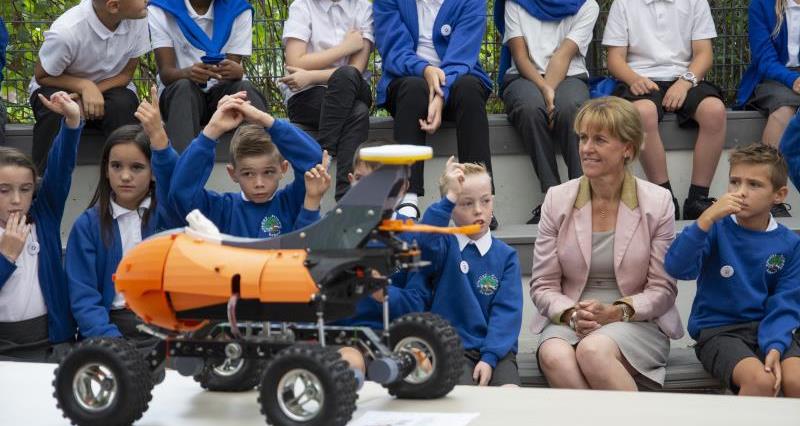 Rachel the robot at the Farmvention competition launch in September.
What made you decide to partner with the NFU on our Farmvention competition?
Farmvention is such a brilliant concept - it's an honour and privilege to support it. It's also a fantastic fit with us. Farmvention's challenge to children is to redesign tractors so that they don't cause compaction. It will stimulate children to take a practical look at this problem, and apply their ingenuity. We'll then help the winners take their dream towards reality, working with the next generation to transform farming for our future.
Farmvention also resonates with me on a deeply personal level. I started out as a teacher with Teach First at a London inner city school, where I set up a student allotment scheme. It opened my eyes to how little urban children know about how our food is produced. I know first hand how important it is to get out there and teach our children about this. And it's amazing how much science they can learn through farming.
I also helped start Jamie's Farm, a charity working with disenfranchised youth, getting them out onto farms. This helped with mental well-being, behavioural issues and practical skills. I believe it is absolutely vital to build greater connections for all our young people with the countryside, and in particular food production.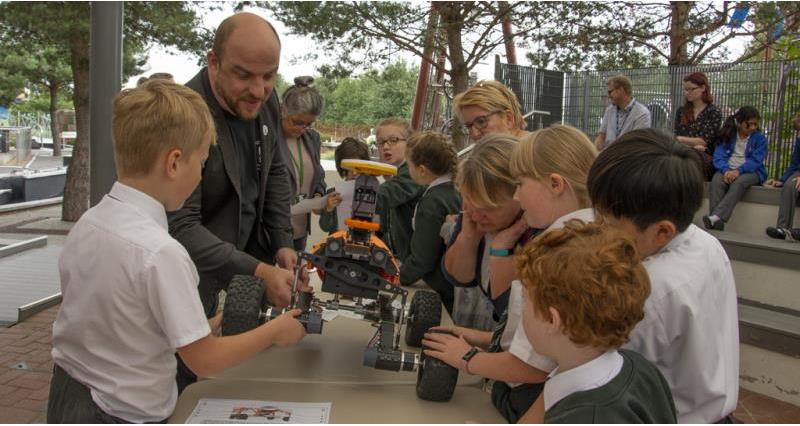 Ben Scott-Robinson, the co-founder of Small Robot Company, explaining his prototype robot, Rachael, at the Farmvention competition launch in September.
What advice would you give to the young entrepreneurs and inventors who might wish to follow in your footsteps?
However excited you are about your idea, do some practical thinking and homework first. Before you spend too much time on it, first talk to people who might buy it. Use the market as your creative partner. They will give you very valuable information. Do this before any product development or investment is made, as it may reshape your direction.
Our ethos is 'by for farmers, for farmers'. As a farmer, it was important to me that our technology was developed in consultation with farmers, rather than an imposition. However, what we hadn't appreciated was how that would entirely that would direct our focus. All the farmers we spoke to immediately told us that while they loved the idea, they didn't want any risk. So we won't be selling our robots - instead, we will be delivering them as a service. Selling a healthy crop, rather than technology. A different direction, but a better one. As a result we've now formed a Farmer Advisory Group to help us develop our technology in field trials. Working together in partnership on a new model for sustainable farming.