ELMs webinar: Your questions answered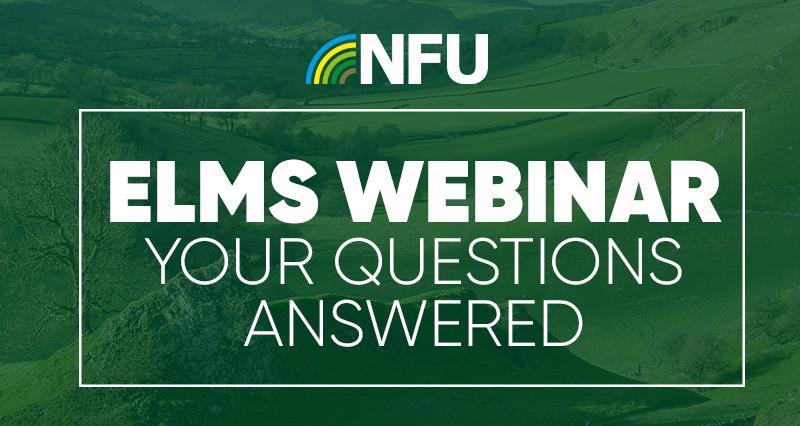 More than 350 people registered to attend the NFU's webinar focusing on the ELMs consultation. Missed it? Here we answer all the questions that were raised.
In the webinar, ELMs: The story so far, held on 17 July, the NFU's Vice President Tom Bradshaw, senior countryside adviser Claire Robinson and chief environment adviser Diane Mitchell answered questions from members about the ELMs scheme and the current government consultation.
Read on for the answers. You can also click here to watch a video recording of the event.
To help you navigate this page, we have collated the questions into topic areas.
Click on a topic to go straight to the Q&A on this subject:
Consultation process
I have already responded to the Defra consultation. Can I add to it based on what I hear today?
I don't honestly know. I would try logging back through the Defra consultation web page.
---
Budgets
What is the budget for ELMs?
We don't know the budget for ELMs. We only know that the CAP budget will remain available to farmers and land managers until the end of the current parliament, 2024 at the latest.
The Defra webinar suggested that money within the ELMs budget would shift more from Tier 1 into Tiers 2 and 3 as time goes on. I know we are looking at getting the scheme right in the first place but it is concerning that some of our Tier 1 options may become seen as 'standard' and payments are lost to more ambitious options. If it is a public good today, surely it will also be the case in 10 years time?
The NFU is lobbying to ensure that support for farming is available now and in future years.
Bearing in mind that the government is saying that there will be some hard decisions to make in the future regarding funding due to COVID-19 costs, how sure is the NFU that the funding will be available in 2024 for ELMs?
No-one knows what budgets will be available beyond 2024 (see above). The NFU is lobbying for Defra multi-annual budgets to give confidence on budgets.
ELMs clearly will be a wide option scheme, possibly drawing in from funding which would normally be part of Ag. How can we ensure that budget, for example flood management, doesn't suck from the Ag budget?
The NFU is lobbying for a farm-based scheme to secure the funding for farming.
What percentage of funding is planned to allocate to Tier 1?
Defra has not shared any thinking in this area. The NFU suggests that it should be in the region of 65-70% of the budget.
With a fixed budget for ELMS, are we not already in danger of devaluing the good derived from individual options as time passes? At the very least should a CPI increase not be built in for example?
Good point. This is why the NFU is lobbying for regular reviews to the payment rates.
---
What should the ELMs payment include?
Why is income foregone still being used as a means of calculating reward? Surely environmental goods have a value regardless of income foregone, which might be very low post Brexit?
Defra has done research on different ways of calculating payments. It has found that it is very difficult to place a value on environmental public goods. Defra's approach of starting with income foregone is the only way to calculate payments in the short term. The NFU is pressing for a far better calculation to be developed.
Those of us who have been in schemes for almost 40 years are not really in Tier 2 as suggested but much more in Tier 3 as each individual agreement historically has been agreed separately. The SSSI restrictions are very specific and need to almost have a separate category for income foregone.
This is a