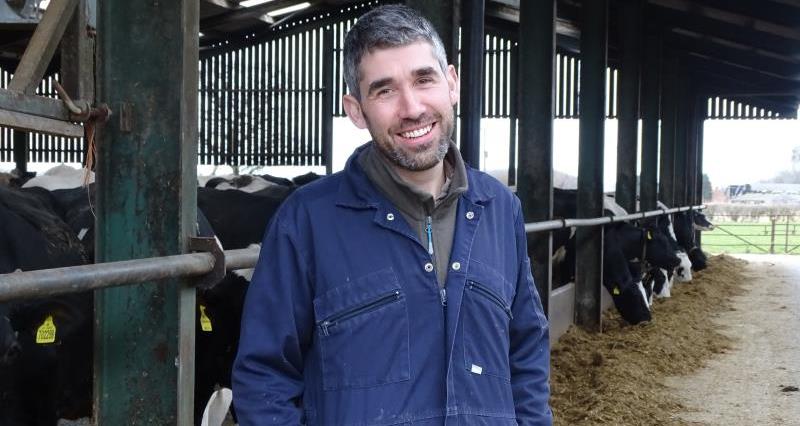 The NFU and AHDB recently conducted a joint study tour to the Netherlands to look at the impact of ammonia regulations on Dutch dairy farms and how farmers have had to adapt their operations to mitigate ammonia whilst continuing to farm productively.
The tour came on the back of the Defra Clean Air Strategy consultation which has set out a number of proposals to lower ammonia emissions in the agricultural sector by 2030 (find out more here).
NFU dairy board vice chairman Paul Tompkins writes:

There is a multitude of factors to consider when designing new cow accommodation and all have the ultimate aim of housing cows in an environment which keeps them happy and healthy. When building our new shed for milking cows, the decisions were endless, from passage widths, tractor access to trough locations. Following the launch of the Clean Air Strategy its clear that in future we may have a new factor to consider when building new sheds - ammonia emissions.

Launched this summer, the Clean Air Strategy aims to set ambitious targets to increase air quality and dairy farming has its part to play. The Strategy identified several ways in which dairy farmers could reduce ammonia emissions and you can see the NFU response here.

One suggestion from DEFRA was designing cow sheds to reduce ammonia emissions, a relatively new concept in the UK so I joined a delegation from NFU, AHDB, DEFRA and 5 other farmers on a tour to the Netherlands to look at a number of farms who have already adopted these techniques.

When building new sheds for milking cows, Dutch dairy farmers must incorporate a flooring which is tested and certified to minimise ammonia production. This is achieved by minimising the contact between manure and urine whilst moving excretions to its covered storage area as soon as possible. Most Dutch dairy farms house cows in cubicles on a slatted system and where we would typically see concrete passageways, Dutch farmers have a choice of ten different flooring designs which on average cost of an eye watering €120 per sq metre! The low emission flooring features grooves or permeable membranes which urine can quickly drain away. All farms we visited also had auto or robotic scrapers.

The low emission flooring created a dry, clean environment so also delivered extremely high standards of feet health and living conditions for the cows.The trip gave some insight into the practicalities of potentially incorporating such flooring into building design in the UK and highlighted to me that our diverse farming systems here in the UK, require a range of options to help meet our emission targets.