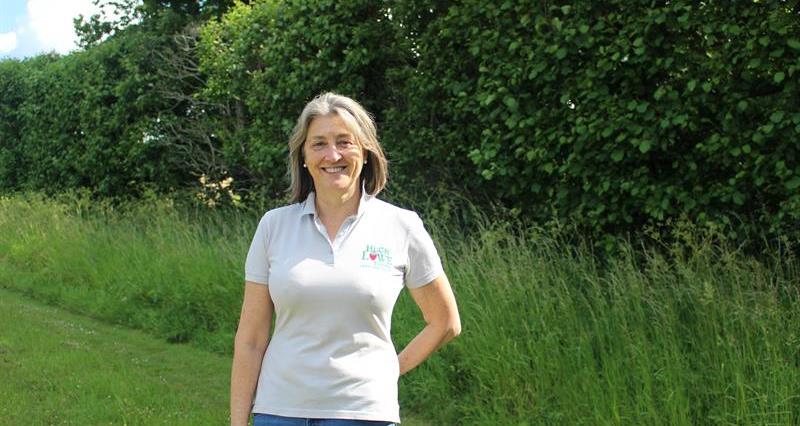 Based near Maidstone in Kent, Hugh Lowe Farms is a soft fruit and arable family farm which holds the environment at the centre of the business. Managing Director Marion Regan is the 3rd generation to farm here, her family having started the business 125 years ago. They employ 650 people, 60 of which are permanent, including Charlotte Hudson, the arable manager, and Tom Pearson, the farms director.
They manage over 700ha, including 400ha of combinable crops and 150ha of soft fruit tunnels. The business has a clear environmental focus, with links to the RSPB, Kent Wildlife Trust, FWAG, and fifteen years ago they were the first LEAF marque accredited farm. This holistic approach to productive and environmentally friendly farming is central to the business, from planning the arable rotation through to delivering the produce.
Environmental Practices
The importance Hugh Lowe Farms places on the environment, throughout each aspect of the business, is clear from the outset. As the inaugural LEAF marque accredited farm, the Integrated Farm Management system is key to the business, and this supports the holistic approach Marion and her team take.
For instance, the farm follows a 'patchwork' technique, spreading the soft fruit tunnels out across the land and adapting the arable rotation to suit the needs of the land and soil. The arable rotation includes overwintering stubble, cover crops, structure mixes, and pollen and nectar mixes, as well as wheat, OSR, spring barley and spring beans.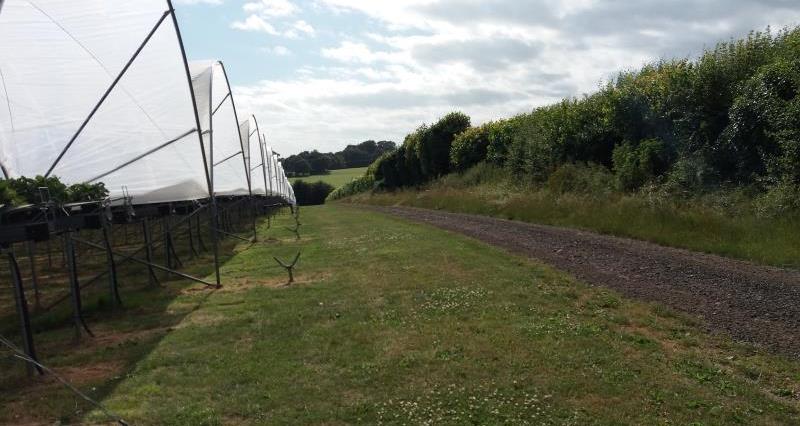 Work on IPM
Integrated Pest Management (IPM) has also become increasingly important to the farm operations over the last 25 years. Tom has significantly reduced the farm's pesticide use by developing the farm's alternative biological pest controls, including the use of pheromones, encouraging beneficial insects, such as lacewing and hoverflies, and using monitoring traps to ensure the targeted and appropriate use of pesticides.
The soft fruit tunnels also work to reduce the need for chemical controls, by reducing the risk of spreading disease via rain splash and introducing insect mesh which protects the crop from pests but allows access for beneficial insects and pollinators. This is supported by the network of land used for environmental purposes, which ensures that each soft fruit area is served by an associated ecosystem. This combined approach allows the business to balance their environmental work with a risk based approach towards fruit production, ensuring the health and quality of their crop.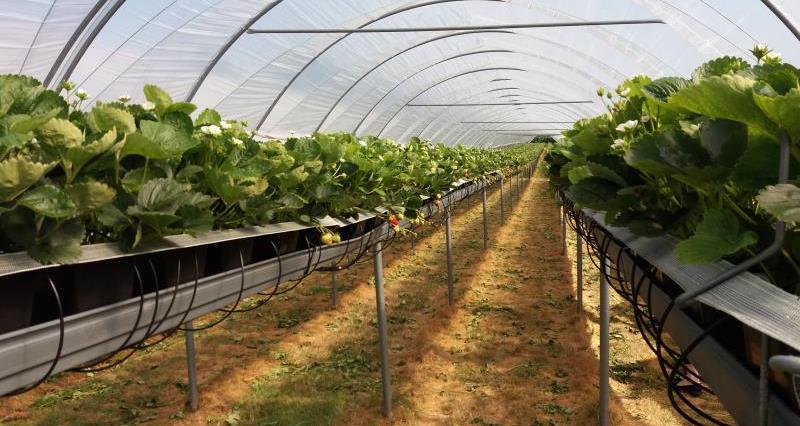 Team effort
All of the staff at Hugh Lowe Farms are involved in the environmental work on some level, from being a 'champion' for waste management and recycling, to taking part in the recording of wildlife on farm. Staff are encouraged to participate in wildlife surveys, take photos or record sightings, and this also helps to create a good working environment and team spirit.
As Marion says 'we like to work and live here, and we hope that the people who work here also feel that.' The work to encourage and support biodiversity on farm also includes habitat creation, such as woodlands and hedges. The hedges aren't cut every year, allowing beneficial insects in larvae stages to develop, which supports pest control. Hugh Lowe Farms also does a lot of work to support the bee populations: since the 1990's they have introduced 100 honey bee hives, as well an encouraging natural bumblebee hives early in the season and monitoring solitary bee populations.
Water efficiency
Although water use has increased over the last five years (in line with increased fruit production), several steps have been taken to improve water use efficiency. By moving to table tops and growing the crops in pot, there is less salt build up when compared to growing in bag, meaning that less water is needed to flush the system. Pots are also reusable and increase the efficiency when replant new crops. Several reservoirs have been built to increase storage capacities and allow them to harvest rainwater for irrigation.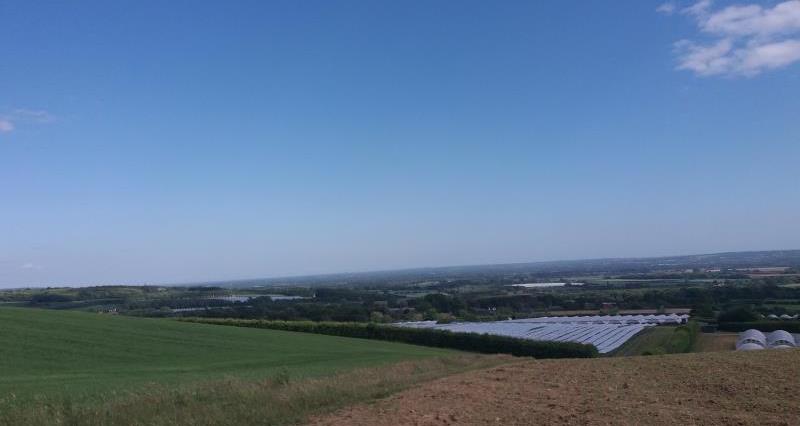 Challenges
By increasing their use of biological controls, the business has had to make greater use of expert knowledge and close monitoring of the crops. As this method of pest management is no cheaper of easier than chemical pest control, it has to be effective, but Marion believes that using IPM methods adds value to their produce.
Despite this, while crop waste has always been an issue in the sector, they are now managing to reduce their crop waste alongside a reduction in pesticide use. There are still significant problems posed by rural crime, particularly produce theft, which has led to a significant increase in security measures.
It has also been difficult to work with prescriptive agri-environment schemes, as they are not well suited for the soft fruit sector. Marion would therefore like greater public recognition for farmers and the work that they are doing for the environment; 'Over the last 25 years farmers have done something for the environment every year. Farmers are still labouring under the image of post war practices, they are by no means perfect, but there is a lot we can do with schemes and general good practice.'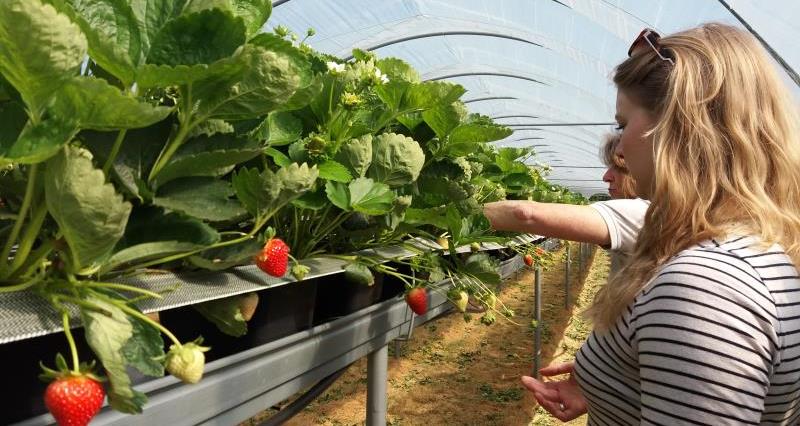 Changes of Time
Marion and her team have started placing a greater focus on their soil health. When they first started growing strawberries it had a real impact on the soil due to the nutrients that had to be added and compaction from heavy vehicle use. Now the soil is regularly sampled, with the arable crops planted in the best soils, with an arable rotation which includes fallow plots and beans to add nitrogen. The move to table tops for soft fruit production has also reduced the impact on the soil. Less favourable soils are now used for environmental measures. Marion has also noted a significant change in hedge management, away from the practices of regular spraying and trimming which took place in her youth.
Future Plans
Looking forward, Marion would like to make greater use of the grassland areas by grazing sheep. There are also plans to continue their work to support the on farm biodiversity, with more areas used for wildlife habitats. Key to this is greater public understanding of how Hugh Lowe Farms produces fruit, in a manner which is compatible with the environment, protects a British countryside and wildlife, and is completely traceable.