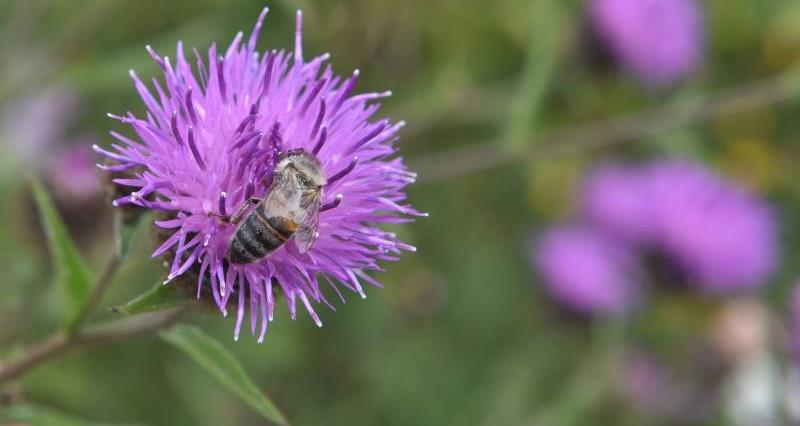 Two recent Campaign for the Farmed Environment (CFE) events provided farmers with valuable insights into how supporting pollinators and crop pest predators can make financial as well as environmental sense.
Organised by CFE, in partnership with Syngenta and Kings, the Business Benefits of Pollinators events took place at Thrift Farm in Royston, Hertfordshire, where mixed arable and sheep farmer Robert Law first planted wildflowers in field margins some 16 years ago, and the Rural Innovation Centre in Cirencester.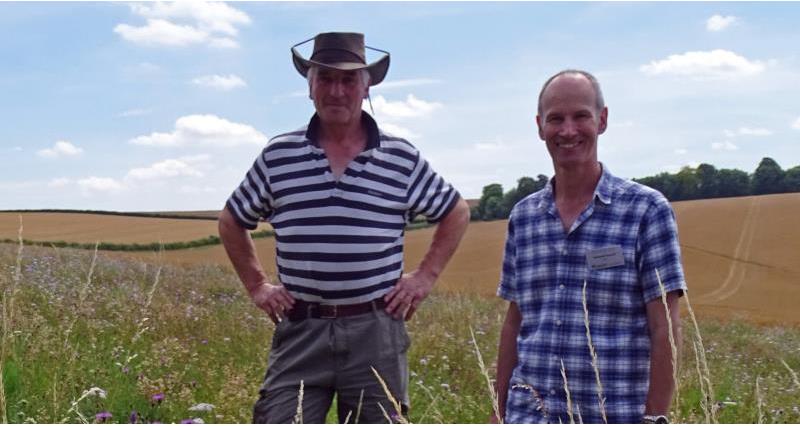 Robert Law (left) with Professor Richard Pywell, pictured in a wildflower margin at Thrift Farm
At Thrift Farm, attendees heard from CFE regional co-ordinator Katie Hilton and Professor Richard Pywell of the Centre for Ecology and Hydrology, who shared research as well as guidance on managing margins for pollinators. At the Rural Innovation Centre, attendees listened to a presentation from Dr Jonathan Storkey of Rothamsted Research.
Robert Law said: "It's all about having the right habitat, in the right quantity, in the right place. You don't need a lot to make a difference."
Why create pollinator habitats on farm?
Insect pollination is valued at an estimated £600m a year to UK horticultural and agricultural crops. It benefits both yield and quality. Sowing field margins not only encourages pollinators, but can also provide habitat to support natural predators to crop pests.
Awkward field edges typically result in around 20% less yield, so it can make good financial sense to plant these areas with seed mixes designed to attract and support insects that will benefit core crops.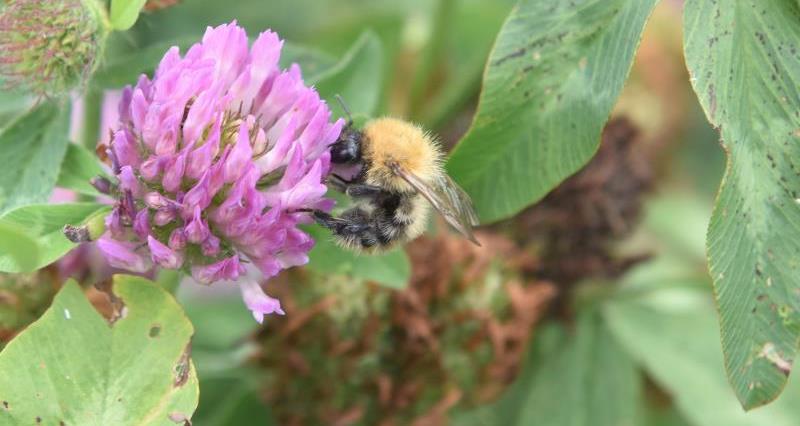 A common carder bee, a species of bumblebee, on clover
Professor Pywell shared details of a six-year, large-scale study on a commercial arable farm planted with field beans, oilseed rape and wheat. Improved pollination combined with natural pest control led to increased crop yields, especially in field beans which saw a 35% increase. With improved yields overall, farm output was largely unaffected by taking up to 8% of land at field edges out of production to create habitats.
But it's not just a case of sowing packets of seed mix and expecting immediate return on investment. Proper management and harvesting of these planted areas is crucial to the success of the initial planting and also how it performs as a habitat to support biodiversity in subsequent years.
Paul Brown, eastern technical adviser at Kings Crops said: "You have to treat these seeds as you would any crop. Select your site properly, get rid of any perennial weeds, and use the correct sowing methods. Mowing and taking the cuttings off is so important as well. That can be the part that's awkward to arrange and manage, but if you don't harvest the seeds you've planted won't have the same lifetime. And longevity is the key to success."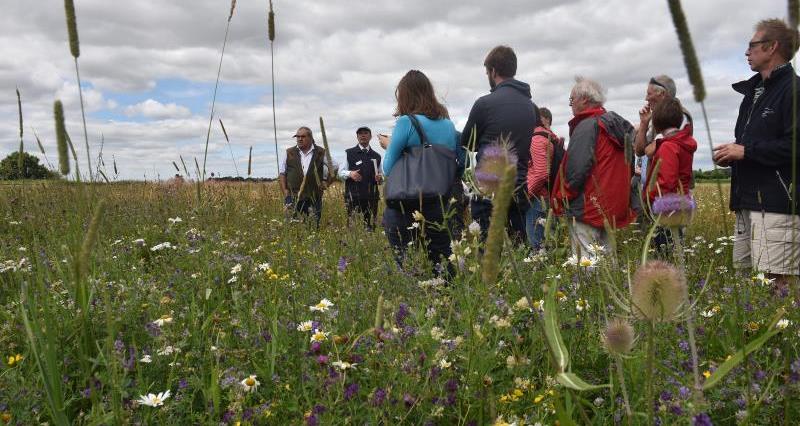 Delegates in Cirencester gain further insights on a site walk
CFE project officer Anna Cuckow said: "Many farmers are taking steps to provide food and a home for pollinators. Since 2014, more than 1,750 farmers have benefited from the practical guidance offered by CFE co-ordinators at more than 90 farm walks.
"In addition, as a result of two discounted seed mixes from Kings and Syngenta, 1,500 ha of flowers providing pollen and nectar have been sown, enhancing the biodiversity of over 50,000 ha of farmland. Sowing mixes on the least productive, awkward field corners which occur on nearly every farm will help both bees and farm productivity."
Other ways to help pollinators include cutting hedges every three years to allow flowering and planting hedge gaps with native shrubs. Tussocky grass and grass buffers also provide essential overwintering habitats for some bee species. These are measures every farmer can adopt voluntarily, outside or alongside a stewardship agreement.
Belinda Bailey, environmental initiatives manager at Syngenta, said: "The Operation Pollinator initiative shows that with careful site planning and management, creating environmental habitats can significantly reduce soil erosion and help protect water resources from soil and nutrient pollution as well as improving crop yield through better pollination."