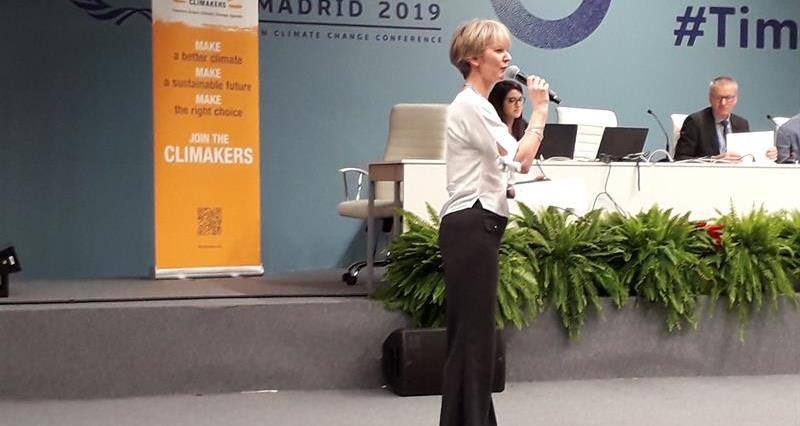 Pictured above: NFU climate change adviser Dr Ceris Jones speaking at the Climakers event.
Wednesday was Farmers Day at COP25 and among the events was one organised by the World Farmers Organisation which focused on work farmers are doing across the world to adapt to, and mitigate, climate change.
The Climakers initiative was launched at COP24 in Katowice, Poland, by the World Farming Organisation (WFO).
Its aim is to give farmers a louder voice in the climate change debate and help them take the lead in proposing farmer-led, science-based and results-oriented solutions to the challenges farming faces.
Wednesday's event – called Transforming food systems with a farmer driven climate agenda and staged on Farmers Day at COP25 – marked the first anniversary of the initiative and showcased examples of work being done by farmers globally to mitigate and adapt to climate change.
Organised by the WFO with the CGIAR Centre for Climate Change, Agriculture and Food Security, it showed how farmers are using their practical experience gained from living and working on the land, and with nature, to adapt to a changing climate.
WFO President Theo De Jager, who opened the event, said: "As farmers, we live very close to nature, closer than anyone else in the world. We are the ones that work under the sun or the rain and wind. We are the ones whose production processes are most threatened by wildfires and disasters. Hence, for centuries, farmers have been involved in mitigating and adapting to climate phenomena.
"That's why last year in Katowice we launched Climakers. Climakers is nothing more and nothing less than a farmers' driven approach to climate change, trying to put farmers at the very centre of the debate when it comes to agriculture and food systems.
"For farmers, it about two simple questions. What can you as a farmer do on your farm to adapt to climate change? And what will it take to get it done?"
The event heard from a range of speakers, including people who outlined the results of workshops that had taken place in Europe and the Caribbean to identify common themes, challenges and goals for farmers. During this session, Jannes Maes, a Belgian dairy farmer and president of the European Council of Young Farmers (CEJA), emphasised the need for the steps farmers had taken, were taking, and were committed to taking in the future with the right support to adapt to, and mitigate, climate change to be properly acknowledged.
The event also saw the launch of a new report – The Climakers – stories from the field, volume 1. This is the first in a series of reports designed to provide a collection of science-based best farming practices based on interviews with farmers across the world to help farmers learn from other farmers' experiences of climate change and the practical solutions they are already utilising.
More from NFUonline: