Share how hedgerows benefit your farm and what you are doing to improve them in a short video or with an image and caption, to be in with the chance of winning 100 metres worth of hedge plants provided by the Woodland Trust.
As part of the NFU's net zero ambition we are committed to helping our members use hedges to help store carbon. Take a look at our hedges infographic below to see how hedges could benefit your farm.
♦ Hear from NFU member Jake Fiennes of Holkham Hall Estate about the fundamental importance of hedgerows for our landscape, wildlife and environment.
♦ See how making other small changes can help you in your net zero ambitions.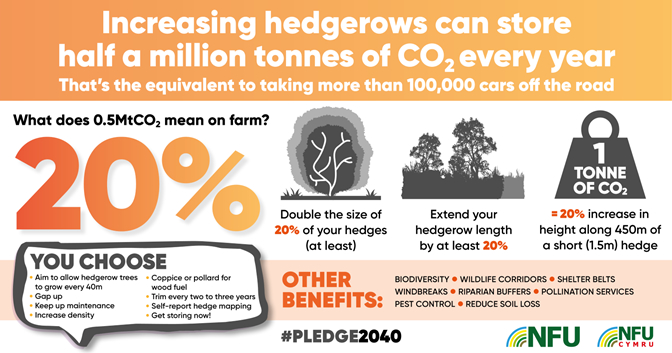 Are you working to improve, create or extend hedges on your farm?
Many NFU and NFU Cymru members are taking positive steps to work towards net zero by 2040 through growing hedges on farm, as well as host of other measures.
Hedgerows can store carbon above and below ground at an estimated 15 tonnes per hectare (tC/ha) as well as improving soil organic matter.
Tell us how hedgerows help your farming environment and be in with the chance of winning 100 metres worth of hedgerow plants, guards and hedgerow trees.
Need some inspiration?
As part of your video, you could show us how you've:
Laid a hedge
Planted a new one
Filled gaps
Changed management styles to improve biodiversity
Or you could talk about how your livestock use them as shelter. There are plenty of benefits you could choose to showcase.
Top tips for shooting the perfect selfie video
Avoid filming in windy locations or busy farm yards – unless you have a microphone that you can attach to your top. A strong wind can make the difference between being able to hear you or not.
Keep your video less than 60 seconds long.
Speak slowly and clearly.
Take the video in landscape rather than portrait.
Don't move the camera too fast.
Make sure you're in good light.