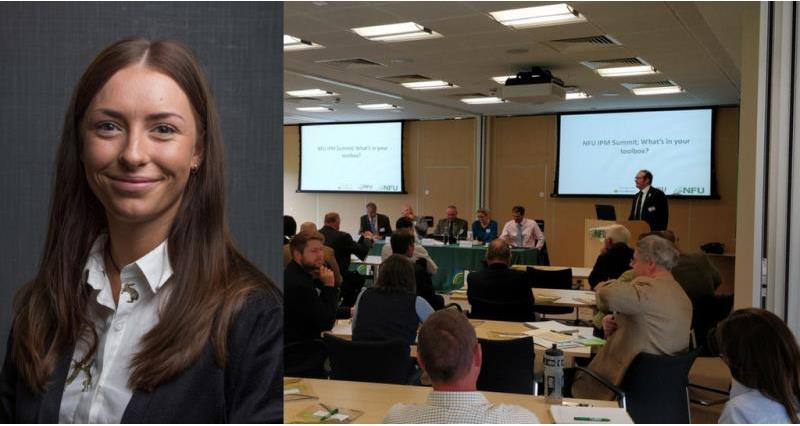 Alisha Anstee, NFUAgricultural Policy Graduate Trainee, reports back from the IPM Summit which was held at NFU HQ Stoneleigh on 5 June. She writes:
The NFU held its first ever Integrated Pest Management (IPM) Summit with the aim of uniting academics, professionals, arable farmers and regional and national crops board members to champion using an integrated approach to dealing with pests, diseases and weeds.
We had speakers from across the industry, including the Voluntary initiative, Rothamsted Research, GWCT Allerton project, AICC and the AHDB to cover topics from earthworms to knowledge exchange and try to tackle the challenges that are ahead for the sector.
The room was united in agreeing that farmers must be proud of what they do; they must educate the public that when they reach for the chemical can it is as a result of serious consideration and it is a vital part of delivering safe, affordable high quality British food that is enjoyed across the world.
A key theme throughout the day was soil. The panel and delegates were in agreement that soil health is the starting point and that we must work together to ensure our soils are fit for the future challenges. However, this is a complex topic and with no blueprint across the UK - each farm must be assessed on an individual basis.
Another key area was that of negative media perception of chemicals and farmers; Tom Bradshaw, NFU Combinable Crops Board Chairman spoke of changing this language and viewing agronomists as crop doctors and plant protection products as crop medicines. Mr Bradshaw stressed that "going forward we need to make sure that policy makers realise that farming is incredibly complex and in order to ensure there is a safe, secure, affordable supply of food we need access to all the tools in the toolbox."
The afternoon saw all 70 delegates engage in an interactive voting session which identified certain knowledge gaps.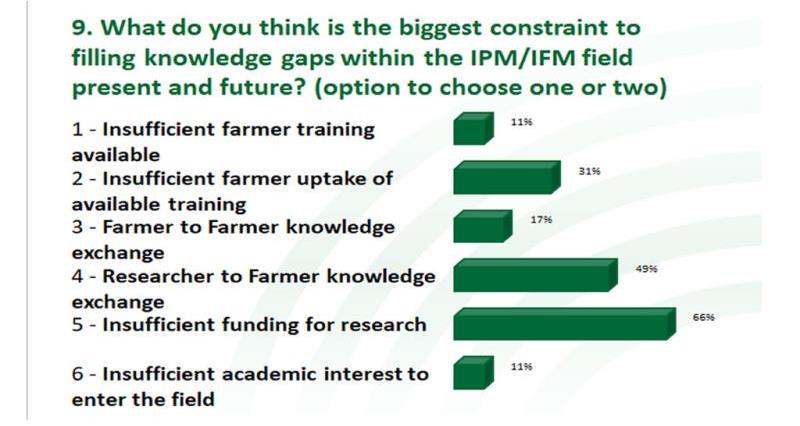 It was evident that knowledge exchange was critical to move forward, in some cases the knowledge is already present but the uptake and utilisation process with farmers may be an area that needs to be addressed.
It was noted that actives must be seen as a 'precious resource' and there is an urgent need for the government to channel more activity into researching safe replacements of actives that are being lost to resistance. Finally, the session ended with the floor voting that the single biggest constraint to filling knowledge gaps within the IPM area is the lack of funding.
Phil Jarvis, one of the panellists, proceeded to ask the room if anybody had applied and been declined of funding for research in this area through their business or work - more than a third of the room raised their hand. This gave an important indication that this was an area that needed to be addressed as well as a change in the direction of the current R+D, which Dr David Chandler from Warwick University highlighted - particularity to consider the interactions between the different IPM measures and the identification and understanding of beneficials and their behaviours.
To conclude, the summit united the sector and emphasised the challenges that are inevitable going forward. Key messages to take away are that farmers must be proud of what they do and better communicate the serious consideration that goes in to delivering high quality British produce and finally that soil health is paramount and forms the foundations of any IPM plan.
The NFU IPM infographic was launched at the summit which displays the practicalities of IPM as well as highlighting how these practises are delivering for the environment.