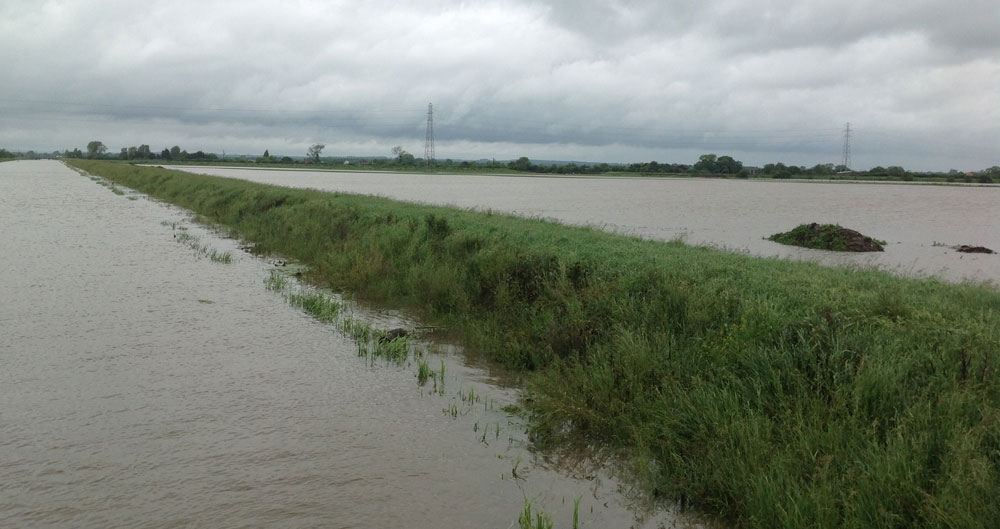 Defra has announced it will make up to £2 million available to help farmers affected by recent flooding in Wainfleet, Lincolnshire, and in North Yorkshire.
The announcement follows an NFU call for an urgent meeting with Defra and for government support.
NFU Vice President Stuart Roberts said: "The government's offer to help farmers affected by the devastating floods in Wainfleet and Yorkshire is great news for farmers in these areas.
"I hope this will mean affected businesses will now be able to recover more quickly and get on with the job of producing safe, traceable and affordable food for the nation.
"Events like these expose the vulnerability of the farming sector so it is positive that the government is taking water-related issues seriously to help restore our valued and productive farmland.
"We will continue working with internal drainage boards and farming charities such as RABI, the Prince's Trust and the Farming Community Network to help those affected the best we can in the short term."
The money comes as part of £5.25m in relief for flood-hit communities, including those at Whaley Bridge, Derbyshire, which was evacuated over fears a flood-damaged dam might collapse.
Flooding funding at a glance
Defra is making up to £2 million available for farming businesses affected by the flooding in Wainfleet and North Yorkshire
Flooding in Wainfleet and Richmondshire can apply to have 100% of the money they have spent, above a threshold, reimbursed by the government. This could be for items including rest centres, temporary accommodation and staff overtime.
Two damaged bridges in Yorkshire will be replaced thanks to a £3 million investment from the Department for Transport.
Defra and the RDPE (Rural Development Programme for England Network) are still working on the criteria for funding eligibility. As soon as the NFU has any more information we will make our members aware.
Charitable donations have been received in the Yorkshire Dales from RABI, ForageAid and the Prince's Trust. For more information on charitable funding please contact the NFU North East Office.
What's the NFU doing to help members affected by recent flooding?
Defra's commitment to flooding funding followed an NFU call for an urgent meeting with Defra and for government support. Representatives from the NFU reported the devastating impacts the floods had had on farms in the Yorkshire Dales and Wainfleet and funding was subsequently announced.
The NFU has been asked to form part of the stakeholder dissemination group and will ensure that member's priorities are understood.
The NFU will continue to inform members on the funding developments as soon as information is available.
Other useful links:
---
More from NFUonline: