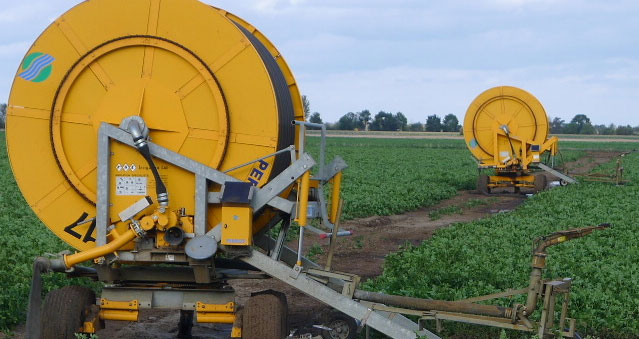 With low rainfall patterns persisting across some of our key irrigation areas – East Anglia received just 19% of long term average rainfall during April – the Environment Agency has revised its 'irrigation prospects' report for the year ahead.
Prospects for East Anglia, Lincolnshire and Northamptonshire are now described as 'poor'.
'Poor' describes a situation where water levels are well below average, where soil moisture deficit is developing early, and where significant restrictions on abstraction are probable.
Prospects for Yorkshire and East Midlands remain 'moderate' in most catchments but with some 'poor' areas.
Prospects for most other areas remain 'moderate' including Kent and the South East, West Midlands and the South West
'Moderate' reflects low water levels and indicates that some controls on surface water abstractions may be needed by midsummer if conditions are hot and dry.
Paul Hammett, NFU water specialist, said that farmers and growers are bracing themselves for a challenging summer.
He's urged farmers to consider how they could be affected by running out of water and to make plans, where possible, to manage water shortages.
Weather conditions for the forthcoming growing season are difficult to predict but the Met Office is currently predicting that hot and dry weather is (marginally) more likely than not this summer.
During the 2018 agricultural drought the Environment Agency was able respond positively to requests from the NFU and others to adopt a 'flexible licensing' position which allowed, for example, groundwater to be rapidly traded between neighbours in some places.
Licensing flexibility will still be potentially available to irrigators this season,but may be difficult to deliver in practice where groundwater levels are – without the spring rainfall that was so beneficial last year - likely to remain notably low.
We strongly recommend that members read carefully the detailed analysis contained in this report, and sign up to receive updates from their Agency area office where these are available.
See also: