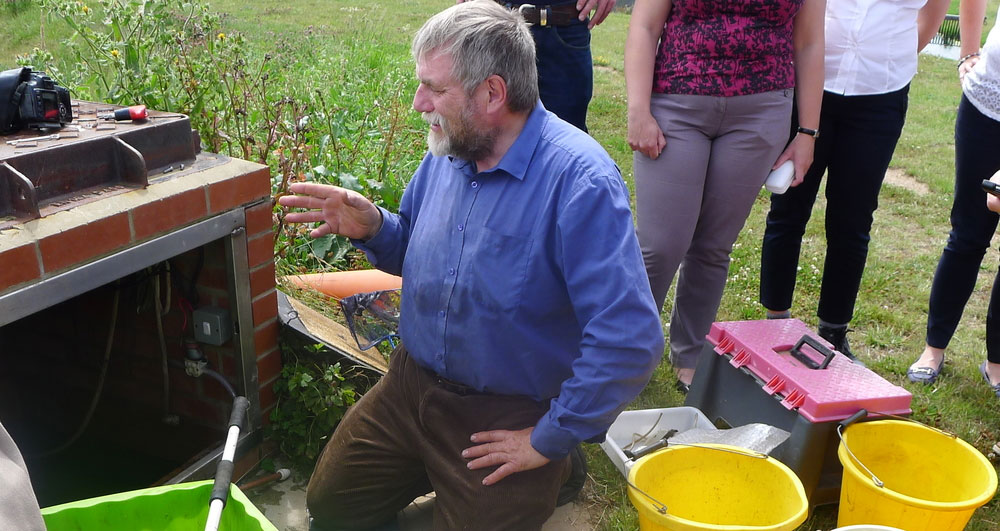 Above: An IDB conservation officer counting eels and elvers at an IDP pumping station
The NFU is seeking input from members on measures that have been installed to protect eel passage, and the costs incurred to be compliant with the regulations.
Measures are being gradually introduced to protect eels and to arrest the sharp decline in their populations since the 1980s. UK regulations designed to protect eels came into force in 2009, but many historic in-river installations such as irrigation pumps are currently subject to time-limited exemption notices.
What is the current situation?
So far, only new schemes such as new surface water abstractions must comply with the Eels Regulations through the installation of measures to ensure that pumping is safe for eels.
The Environment Agency has started to engage with the agricultural sector to develop procedures to ensure that irrigation pumps remain compliant when current exemption notices expire.
Why is responding to this questionnaire important?
The Agency has to make sure that eel protection measures are worth implementing, and so it is developing an understanding of typical compliance costs for different sectors. It follows that if typical costs can be better understood, then a view can be taken on what constitutes 'exceptional costs' – where the cost of installing the measure outweighs the benefit to eels.
What do I need to do?
The NFU wants to help the Environment Agency to find an appropriate balance between the protection of eels and farmers' ability to pay for installing and retro-fitting suitable equipment.
To do this, we need information on what has already been installed on farms, primarily in terms of the type of 'Best Achievable Eel Protection' (BAEP), and the relationship between irrigation pump capacity and cost (£/cumec).
We'd be grateful if members could download and complete this questionnaire and return it by email to NFU water specialist Paul Hammett as soon as possible and preferably by 8 November 2019.