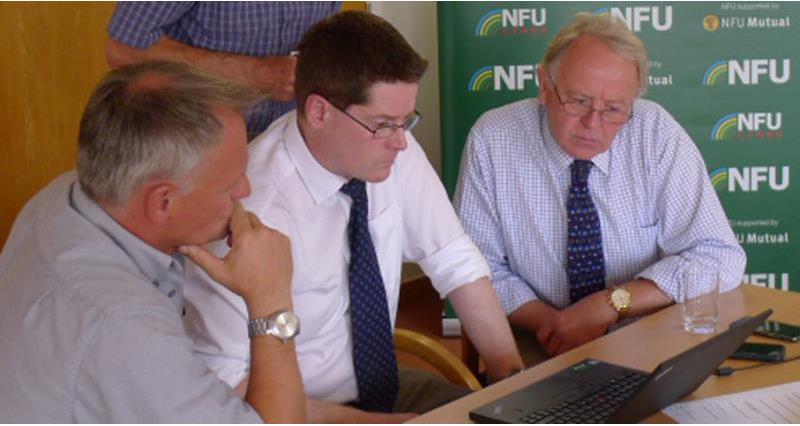 Farmers in the Cam & Ely Ouse catchment of East Anglia have met with the Environment Agency to discuss how abstraction licence flexibility announced at the Agricultural Drought Summit (1 August) will work in practice when applied to local conditions.
NFU members are being encouraged to use the newly launched NFU Water Bank to match up willing buyers of water with willing donors and thereby simplify and speed up the Agency's approval process.
It's clear that members will have a better chance of success if they approach the Agency already armed with some clear information about the type of licensing flexibility they are seeking to secure.
For farmers and growers seeking permission for an emergency and short-term trade, we recommend they are prepared to provide the following information when they make contact with the Agency:
Abstraction licence numbers of donor and recipient licence
Abstraction point, ideally with the national grid reference number, where the abstraction will actually take place
Purpose of the abstraction (different types of abstraction have different consumption rates)
Time scale or duration, if known (although this will ordinarily be until the end of the irrigation season)
Water volume required, perhaps daily and total amounts (estimates)
Quantity of water already abstracted under the participating abstraction licences
Confirmation that an agreement to trade exists between the two parties (informal)
While we have already seen an encouraging number of flexibility requests approved by the Agency in East Anglia, we remain disappointed that more is not being done given that our aquifer and river levels are normal, or at worst 'average', for the time of year.
This suggests that farmers have nearly or already used up their legal allocations of water but, because of the very wet spring, there is still sufficient actual water available for us to use.
The risk to be addressed of course is that an extended dry spell into autumn and winter could leave water resources stressed as we prepare for the 2019 farming year.
Paul Hammett, the NFU water specialist who organised the farmers' meeting, said there was room for the Agency to be more helpful still.
'We emphasised that the potato irrigation season in the catchment has only 3-4 weeks left to run and the volumes needed to "get us across the line to harvest" are really very modest compared to public water supply', he said.