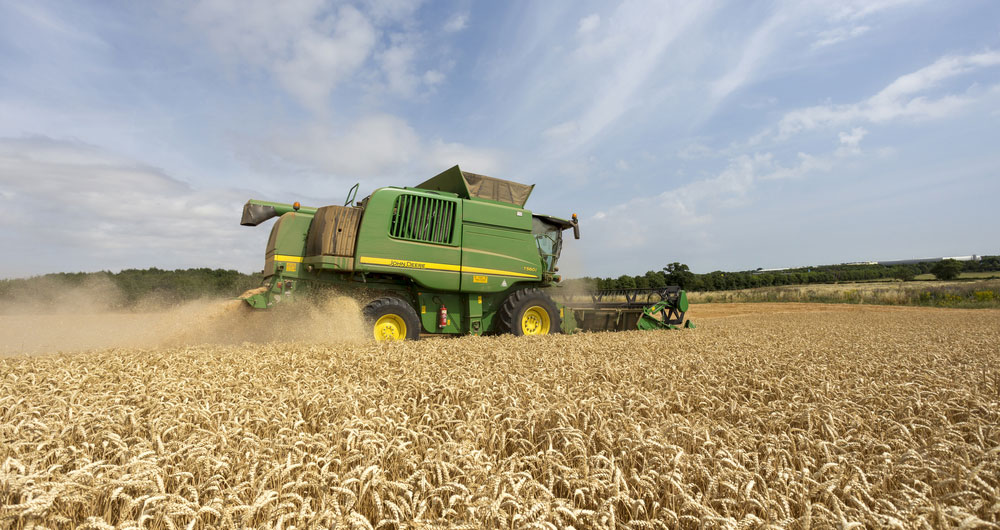 Defra's National Drought Group convened in London on 25 July to review the weather and water resources situation currently faced by the water industry, together with agricultural, energy and environmental sectors. Reporting to the group on behalf of the farming sector, NFU water specialist Paul Hammett said that farmers are facing extreme conditions but are well versed in dealing with the vagaries of the weather.
Mr Hammett said:
"Arable farmers are working flat out to bring in harvest during the hot, dry spell, which provides them with ideal conditions for combining their cereal crops. But they face the challenges of crop and stubble fires in tinder-dry conditions, and the risk of thunderstorms that than can cause crops such as oilseed rape to shed their seeds.
"The health and welfare of livestock is paramount for farmers all year around, but hot spells bring extra challenges, so they are doing all they can to keep animals comfortable and well-watered. Poultry producers in particular will be mindful of the risk of heat stress to birds during extended periods of hot weather."
Abstraction
Fruit and vegetable growers are hugely reliant on a secure supply of abstracted water to irrigate their crops. While growers are well into harvesting this year's crops, there are increasing concerns about the impact on horticultural production of rising temperatures combined with lack of rainfall. Growers who rely on water for direct abstraction from rivers are particularly vulnerable, and the NFU is in daily contact with the Environment Agency about the risk of irrigation restrictions being imposed to protect fish and river life.
Within the past few days, the Environment Agency has introduced statutory irrigation restrictions on a number of rivers in Essex and Suffolk, requiring growers to limit abstraction to half of their normal permitted volumes. While these restrictions on access to water will present growers with crop yield and quality challenges leading up to harvest, those pressures have been partly offset by the Agency's recent flexible approach to abstraction licensing which has allowed some growers to fill reservoirs when river flows temporarily recover after heavy rainfall events.
Longer term view
Water companies from across England attended the drought meeting and reported on their own position. All companies are confident of meeting the water needs of customers through the summer although some could not rule out the introduction of 'Temporary Use Bans' (hosepipe bans) in the longer term.
The NFU joined the water industry in registering its longer term concern about prospects for 2020 if the long term trend for dry winters is repeated. Agriculture and the environment rely heavily on water stored in underground aquifers, and with groundwater currently depleted we will need significant rainfall in autumn and winter to replenish water levels.
Working safely in hot weather
In response to this week's soaring temperatures, the NFU has issued advice on safe working in the heat for farmers and farm workers. This includes advice to slow down and work at an even pace, to schedule frequent breaks, stay hydrated and to wear lightweight, loose fitting clothing to protect against the heat.
More from the NFU: