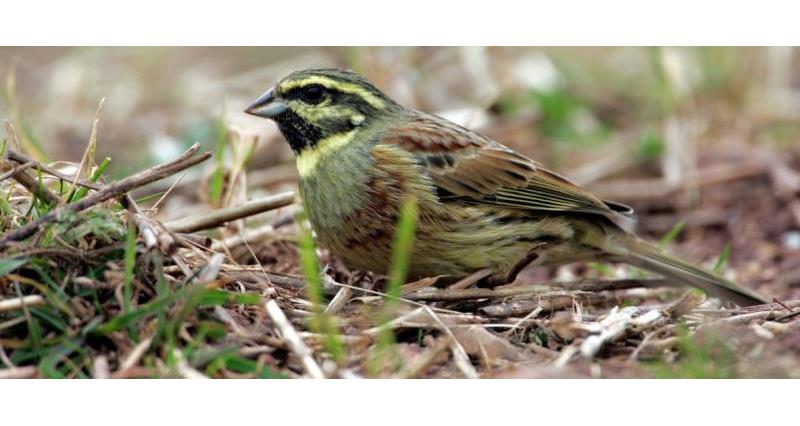 Picture: RSPB

One of Britain's most threatened farmland birds has reached a major milestone in its recovery, new figures released today show.
The efforts of farmers to provide habitat for the cirl bunting have been recognised as crucial in its resurgence. A nationwide survey by the RSPB shows the UK population of the cirl bunting - a small, finch-like bird - has reached 1,078 pairs, after numbering just 118 in 1989.
The jump in numbers follows a 25-year project between the RSPB and local farmers in the South West of England to help manage their land in a cirl bunting friendly way, providing year round food supplies and habitat. Martin Harper, RSPB conservation director, said: "The recovery of this charming little bird is a remarkable conservation success and shows what can be achieved when farmers, conservationists and nature work together.
"It is down to the care and hard work farmers in Devon and Cornwall have put in on their land using the tailored schemes that has made this remarkable comeback possible. The success is one of the best examples of how conservation groups and farmers can work together to achieve amazing results for wildlife. Without this action the cirl bunting would have almost certainly disappeared from our shores altogether."
The majority of the cirl bunting population remains confined to Devon, although the first successful reintroduction programme of a small bird in Europe means a thriving cirl bunting population can now be found in Cornwall – 65 pairs according to the latest survey. Numbers are expected to continue to grow and it is hoped that the cirl bunting will return to more of its former areas in southern Britain in the years to come.
NFU South West regional director, Mel Squires, said the recovery of the cirl bunting had "not been through chance" but was down to "a true, committed partnership for 25 years".
In the most recent Big Farmland Bird Count more than 130 different bird species - seven for the first time - were recorded nationwide by more than 1,000 participating farmers. NFU Vice President Guy Smith said: "According to RSPB figures about half these species have increased in number in the UK in recent decades. But in amongst this it is clear some bird species associated with farmland are struggling and farmers are keen to work to reverse these trends."