The third Big Farmland Bird Count took place between the 6th and 14th February 2016 with record numbers of participants and species recorded.
Over 970 farmers took part and recorded 130 species across around 900,000 acres. That's more farmers than in previous years and the highest number of different species counted since the BFBC began.
Here is a summary of the results.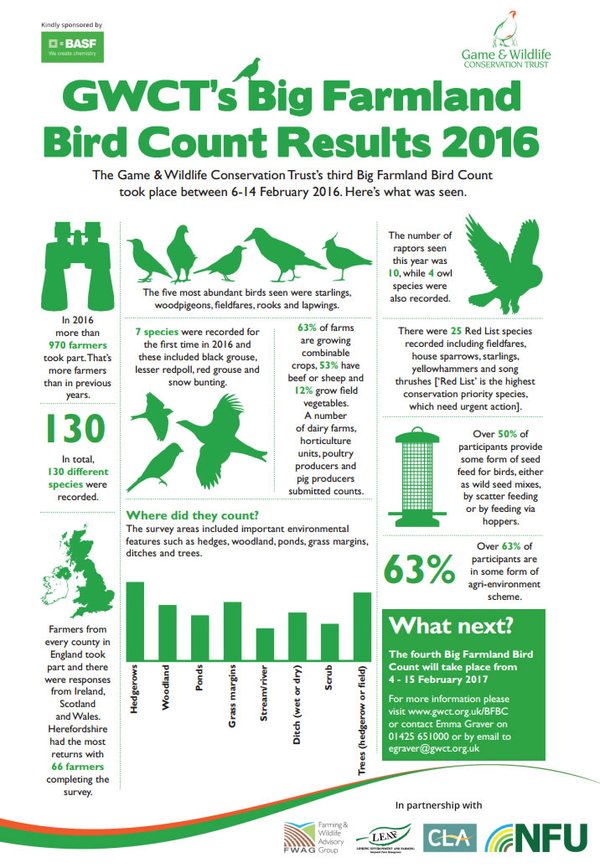 Guy Smith, Vice President of the NFU, said: "I like to pick a different spot every year to see if we get different species in different locations. Last year it was the middle of the marsh, so it was dominated by species such as lapwing, golden plover and brent geese. This year I stood in the field adjacent to my house with an elm hedge on one side and hawthorn on the other. I'm one of those farmer gardeners whose garden merges into the farm. If I was ever to sell up, I'd encourage the estate agent to describe the house as 'extensively surrounded grazed lawns'.
"Anyway, I digress. The count yielded 21 species including three species of tit (great, blue, long-tailed in the hedges). And just to add a hint of the unusual there was a ring ouzel frolicking with the thrushes and blackbirds. It's not often I say to Mrs Smith: 'Look darling, there's an ouzel in my paddocks'."
Planning for the fourth BFBC is already underway. It will take place during February 2017 and we are planning even more ID days ahead of the event. It's hoped more than 1,000 participants will take part next year.