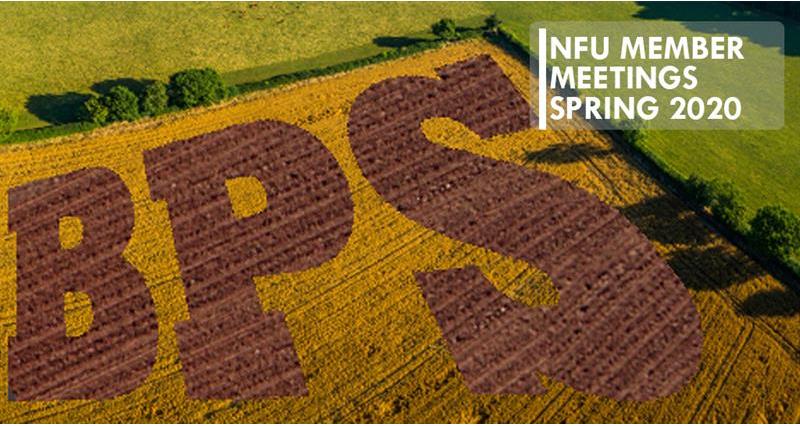 The NFU's BPS experts will once again be on the road from late March, providing advice on the 2020 BPS application as well as other related updates.
Why should you attend one of these meetings?
Ensure you are up to date
Get advice on the 2020 application and any changes for 2020
Make sure you know what the greening requirements are in 2020
Understand the latest for BPS and other schemes going forward
Ask questions to help you and your business.
Date

Region

Contact details for registering

Time and location

Morning
Afternoon
Evening
Monday 23 March
East Midlands

Call: 01572 824250, or
Email: ZWFzdC5taWRsYW5kc0BuZnUub3JnLnVr

Time: 7.30pm
Address: Bakewell Market, Agriculture Way, Bakewell, DE45 1AH
Monday 23 March
East Anglia
Call: 01638 672100, or
Email:

bWVldGluZ3NlYUBuZnUub3JnLnVr

Time: 2pm
Address: Dunston Hall Hotel, Ipswich Road, Norwich, NR14 8PQ
Tuesday 24 March
East Anglia
Call: 01638 672100, or
Email:

bWVldGluZ3NlYUBuZnUub3JnLnVr

Time: 9.30am
Address: Finborough Hall, Stowmarket, IP14 3EF
Time: 2pm
Address: Essex Young Farmers Centre, Whitbread's Barn, Chatham Green, Essex, CM3 3LQ
Thursday 26 March
East Anglia
Call: 01638 672100, or
Email:

bWVldGluZ3NlYUBuZnUub3JnLnVr

Time: 9.30am
Address: Abbots Ripton Village Hall, The Green, Abbots Ripton, Cambs, PE28 2PF
Time: 2pm
Address: Farmschool, Annables Farm, Kinsbourne Green, Harpenden, Herts, AL5 3PR
Tuesday 31 March
West Midlands
Call: 01952 400500, or
Email:

d2VzdC5taWRsYW5kc0BuZnUub3JnLnVr

Time: 2pm
Address: Prees cricket & recreation centre, Brades Road, Prees, SY13 2DX
Time: 7.30pm
Address: Staffordshire county showground, ST18 0BD
Wednesday 1 April
West Midlands
Call: 01952 400500, or
Email:

d2VzdC5taWRsYW5kc0BuZnUub3JnLnVr

Time: 7.30
Address: YFC centre, Hawford, Worcs, WR3 7SG
Wednesday 1 April
South West
Call: 01392 440700. or
Email:

c291dGgud2VzdEBuZnUub3JnLnVr

Time: 12.30
Email: Lackham college, Lacock, Chippenham, SN15 2NY
Time: 7pm
Address: Kingston Maurward College, Dorchester
Thursday 2 April
South West
Call: 01392 440700. or
Email:

c291dGgud2VzdEBuZnUub3JnLnVr

Time: 11am
Address: Isle of Wedmore golf club, Somerset, BS28 4QT
Time: 7pm
Address: Farm 491, RAU, Cirencester, GL7 6JS
Thursday 2 April
West Midlands
Call: 01952 400500, or
Email:

d2VzdC5taWRsYW5kc0BuZnUub3JnLnVr

Time: 2pm
Address: Withington Village Hall, Coppice Close, Withington, Herefordshire, HR1 3PP
Time: 7.30
Address: NFU HQ, Stoneleigh park, CV8 2TZ
Monday 20 April
East Midlands
Call: 01572 824250, or
Email:

ZWFzdC5taWRsYW5kc0BuZnUub3JnLnVr

Time: 9.30 - 10am start
Address: Newark Showground, Newark, NG24 2NY
Tuesday 21 April
East Midlands
Call: 01572 824250, or
Email:

ZWFzdC5taWRsYW5kc0BuZnUub3JnLnVr

Time: 9 - 9.30am start
Address: Springfields Conference Centre, Camelgate, Spalding, PE12 6ET

Time: 1.30 - 2pm start
Address: Bentley Hotel, Newark Rd, South Hykeham, LN6 9NH

Tuesday 21 April
South East

Call: 01730 711950, or
Email: c291dGguZWFzdEBuZnUub3JnLnVr

Time: 10am
Address: Brinsbury College, North Heath, Pulborough, RH20 1DL
Time: 3pm
Address: Amos Hall, Ashford market, Monunent Way, Ashford, TN24 0HB.
Wednesday 22 April
East Midlands
Call: 01572 824250, or
Email:

ZWFzdC5taWRsYW5kc0BuZnUub3JnLnVr

Time: 1.30 - 2pm start
Address: Kilworth Springs golf club, South Kilworth Rd, North Kilworth, LE17 6HJ
Wednesday 22 April
South East
Call: 01730 711950, or
Email:

c291dGguZWFzdEBuZnUub3JnLnVr

Time: 10.30am
Address: Sparsholt College, Winchester, SO21 2NF
Time: 2.30pm
Address: Jennings, Hampden House, Monument Rd, Chalgrove, OX44 7RW
Monday 27 April
North East
Call: 01904 451550, or Email:

bm9ydGguZWFzdEBuZnUub3JnLnVr

Time: 1pm
Address: Darrington Golf Club, Havercroft Lane, Darrington, Pontefract, WF8 3BP
Time: 7pm
Address: The Badger, Street Houses, Ponteland, Newcastle upon Tyne, NE20 9BT
Tuesday 28 April
North East
Call: 01904 451550, or Email:

bm9ydGguZWFzdEBuZnUub3JnLnVr

Time: 10.30am
Address: Hardwick Hall Hotel, Sedgefield, Co.Durham. TS21 2EH
Time: 3.30pm
Address: Bishop Burton College, Beverley, HU17 8QG
More from NFUonline: