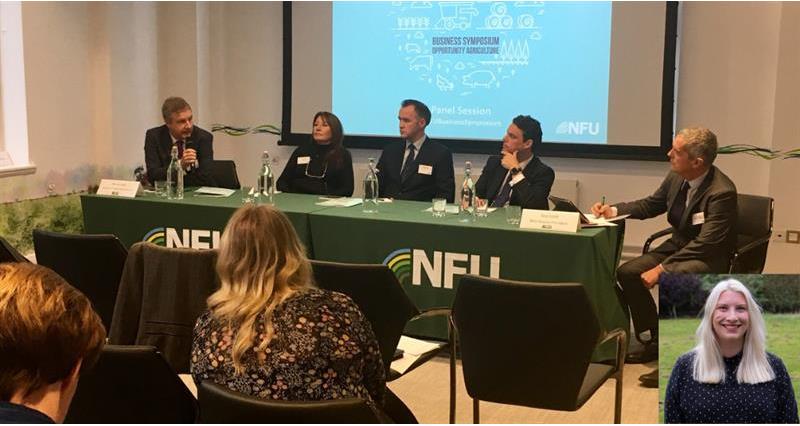 The NFU held its second Business Symposium event on 4 December at its London office. NFU Graduate Hannah Binns reflects on the event and the key messages from industry leaders on the topics of productivity, investment and change. She writes:
With Brexit and discussions around the Agriculture Bill, British farming faces many challenges at this point of time. On Tuesday 4 December our second Business Symposium brought together industry professionals, ranging from bankers, accountants, legal experts, policy makers and farmers to ensure that farm businesses have sufficient time to plan, adapt and invest for the future.
The event was well attended and it was great to see such stimulating debate from key industry leaders on the topics productivity, investment and change.
What was discussed?
Our first speaker was Paul Aplin, President of the Institute of Chartered Accountants in England and Wales (ICAEW), who focused on the Autumn Budget 2018, Brexit uncertainty and the wider economy.
Paul highlighted that business confidence across all sectors is currently at its lowest level in nine years, with a lack of appetite to invest in plant and machinery. He also discussed the challenges of making tax digital and stressed that for the implementation of digital tax to be successful, farmers must have access to rural broadband.
NFU member and Poultry Industry Programme participant Patrick Hook (PD Hook Hatcheries Ltd) described how his family farm business has grown and developed over time, adapting to change through investment, productivity and efficiency.
Patrick stressed how paramount access to a flexible workforce is to his business and sector, stating 'without people our business simply does not operate'. He also outlined that sustainability is all about profitability foremost, with investment in environment schemes and new technologies following suit.
Jane King, CEO of AHDB then illustrated how AHDB are tackling the productivity puzzle by exploring the various initiatives designed to help the industry prepare for Brexit.
Jane explained that innovation, knowledge sharing, the role of data and a national skills strategy were all part of the solution and revealed the invention of a new 'What Works' centre for agriculture and horticulture.
Finally, NFU EU Exit and International Trade Director Nick von Westenholz highlighted the policy work of the NFU in relation to Brexit and the Agriculture Bill. He demonstrated the various Brexit scenarios and emphasised how critical it is that productivity measures continue beyond the length of the transition period.
Concluding remarks
After the presentations, the panel received questions from the floor. Deputy Director of Defra Tim Mordan was invited to be part of the panel and discussed the need for more farmer driven research and development in the future.
The diverse roles of the speakers meant both the questions and answers were varied but the day emphasised the need for a united approach and certainty on which to build future plans for a successful post-Brexit farming industry.
NFU Deputy President Guy Smith, who opened the event and chaired the panel session, concluded: "If we are to become a productive and resilient sector after Brexit – a sector which produces quality and affordable food for the nation and delivers for the environment – it is essential that farmers are able to invest in infrastructure, technologies and business growth so they can achieve the necessary productivity gains in a post-Brexit landscape."
More on NFUonline: