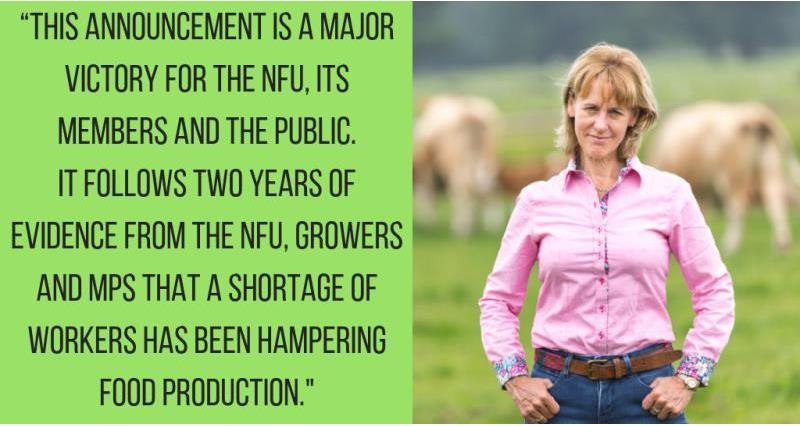 A two-year pilot to support farmers by allowing non-EU migrant workers to work on farms, then return after six months has been announced by the government.
The limited pilot will mean growers are able to employ migrant workers, which they currently rely on for seasonal work, for up to six months, before their return.
2,500 workers from outside the EU will be able to come to the UK each year, alleviating labour shortages during peak production periods.
The scheme will be run by two scheme operators, who will oversee the placement of the workers. The arrangements for selecting the scheme operators will be announced in due course.
To be eligible for the pilot workers must be aged at least 18 years old on the date of application and be from outside of the European Union.
The pilot will commence in the spring of 2019, will run until the end of December 2020 and will be monitored closely by the Home Office and Defra.
NFU President Minette Batters said: "This announcement is a major victory for the NFU, its members and the public. It follows two years of evidence from the NFU, growers and MPs that a shortage of workers has been hampering food production, and is recognition from the government that British horticulture is a successful, thriving sector which faces some unique challenges but is capable of producing more great, healthy British fruit and vegetables for people to eat.

"Farmers and growers have seen worker availability tighten significantly in recent years, with the shortfall to July this year reaching ten per cent. Growers will take great confidence in knowing that the government is listening during what have been extremely testing and uncertain times for the sector.

"We would like to thank all those MPs and our members that have championed this issue with the government. We would also like to thank Michael Gove and Sajid Javid for recognising the seriousness of the situation. The Secretary of State for food and environment said at NFU Conference in February that the case for a scheme was compelling and he has delivered on his commitment.
"We look forward to working with Defra and the Home Office on examining and developing the details of the scheme."
You can read the full press release on the Gov.UK site here.
NFU in the news - our media coverage on the pilot workers scheme: