This story has been updated again - see below.
A new industry-led reporting scheme (the Sustainable Fuel Register) was launched at Energy Now Expo in Telford on 10-11 February, allowing tens of thousands of tonnes of previously unavailable non-wood biomass (e.g. agricultural straw and miscanthus) to receive accreditation for Renewable Heat Incentive (RHI) projects.
See also the following news/blog by Crops4Energy - also Ofgem's 'Easy Guide to Sustainability' and the full 81-page draft sustainability guidance.
Biomass sustainability RHI regulations came into force on 5 February 2015, obliging Renewable Heat Incentive participants to meet sustainability requirements from 5 October 2015. ALL biomass heating users will be affected (domestic and non-domestic, whether smaller or larger than one megawatt), and all will be required to report at least annually. RHI payments can be withheld by Ofgem if any "consignment" of biomass fuel does not meet the sustainability criteria.
Domestic scheme participants - are required to make an annual declaration to Ofgem that the biomass fuel used meets the requirement to source fuel from a supplier registered on the Biomass Suppliers List (BSL), a catalogue of pre-approved suppliers selling wood fuels that meet the RHI sustainability criteria.
Non-Domestic scheme participants (including many farm installations) - are required to make quarterly declarations to Ofgem that the biomass fuel they have used is from a supplier registered on the BSL, or else to self-report quarterly on the sustainability of their fuel. An annual independent sustainability audit report is needed only for installations over 1 MW.
Some farmers and growers who provide woodfuel from their own land (or from their own waste wood) can register under the BSL as self-suppliers. However, the BSL presently covers mostly wood chip and wood pellet fuels - short rotation coppice and arboricultural thinnings are also allowed as raw materials.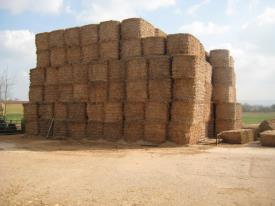 Agricultural solid biomass such as miscanthus or wheat straw, as well as grass, bracken and food wastes will be covered by the Sustainable Fuel Register (SFR), thereby providing additional routes to market for these products and helping to reduce the amount of straw and other residues being exported for a low price or discarded.
According to a DECC spokesperson, "the SFR will minimise the administrative burden on both RHI participants and fuel suppliers. This industry-led approach demonstrates the maturing market for biomass fuel and will play an important role in ensuring the continuing success of the RHI scheme."
NFU Chief Renewables Adviser Dr Jonathan Scurlock added, "The NFU believes firmly that all solid biomass fuels, whether from woodland or agricultural land, should be treated on a level playing field in order to maximise the opportunities for British farmers and landowners. Since last year's introduction of fuel sustainability reporting, we have strongly supported FEC and C4E as having the right competencies to operate a more comprehensive Sustainable Fuel Register."
Download and read the latest official advice from the DECC web site and also the guidance on the Ofgem web site, as well as more general information on the Renewable Heat Incentive.
The NFU Farm Energy Service is ready to provide advice to members interested in renewable heating - call the hotline on 0370 844 5700.