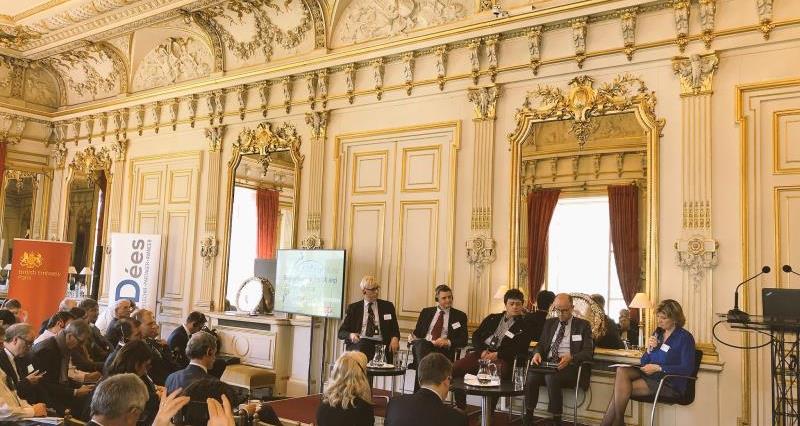 NFU Chief Renewable Energy Adviser Jonathan Scurlock was invited recently by the British Embassy in Paris to attend a UK-France bilateral discussion meeting on the bioeconomy, which included the key role of farming.
He writes:
On Wednesday [7 March], in the luxurious surroundings of the Duke of Wellington's former residence in Paris, discussions between France and Britain took place about how we can align our respective approaches to the bio-based economy or 'bioeconomy'.
I had to agree wholeheartedly with the French when they spoke of "lever les freins" – taking off the regulatory brakes – in order to boost agricultural biogas and biofuels. Their presenters appeared to have more real-life and agricultural case studies than our government and research body representatives, who included staff from BEIS, BBSRC and InnovateUK.
I took part in one of the panel discussions alongside Defra and French farmers' representatives, and highlighted the NFU's frustration at the slow progress in UK biofuels policy, as well as the regulatory burden that holds back promising non-food crops like industrial hemp.
It emerged that both British and French farmers share ambitious goals for the future growth of AD biomethane plants to help decarbonise heat supply through our respective gas networks. There was agreement, too, that both countries should put in place indicative targets for public procurement and standards for the private sector. This could be done by mandating the use of biodegradeable bio-based fuels, lubricants, working fluids in environmentally sensitive areas.
Our common aim is to support diverse bio-based supply chains based upon tens of millions of tonnes of primary and secondary resources, including both domestic and imported feedstocks.
The French published their national bioeconomy strategy in 2017, while the UK Bioeconomy Strategy is expected imminently. Let's hope the British Government takes off those brakes and releases that potential!