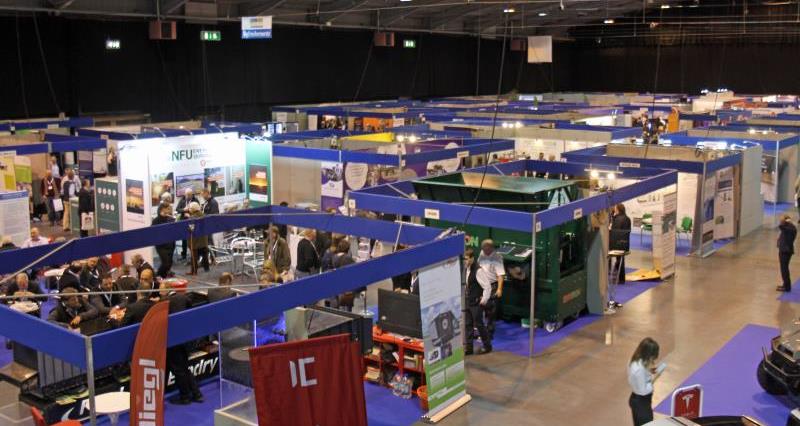 Farmers can take the lead in renewables and energy innovation, NFU chief adviser on renewables and climate change, Dr Jonathan Scurlock, said today at the Energy Now Expo.
Telford International Centre played host to thousands of farmers and industry representatives during the event, which explored the latest renewable energy opportunities to use clean technology, drive efficiency and manage business costs.
Today, on the second and final day of the event, Dr Scurlock introduced the keynote session, chaired the Biomass presentations, and gave an update on farm energy storage.
He said farmers could play a significant role in the decarbonisation of the UK's national heat supply, although it would be a huge challenge.
"As the voice of British farming, the NFU has a desire to see profitable, resilient and diversified farm businesses through the transition to Brexit, and management of energy costs and investment in clean technology is a key part of this," he said.
"With dramatic falls in the cost of solar photovoltaics, on-shore and offshore wind, as well as battery energy storage technology, the prospect of complete decarbonisation of the UK's electricity supply is now in sight.
"However, there's a requirement for large amounts of low-carbon gas to displace natural fossil gas. An increased supply of agricultural feedstocks would be needed to fuel such growth in the bio-based economy, including a large fleet of bio-methane plants and new processes such as synthetic gas from biomass."
Dr Scurlock said the NFU was pleased to have supported Energy Now Expo every year since 2010, since renewable energy remains a fast-moving sector.
"The first electric tractors may be on sale in Europe later this year and the escalating energy demands of battery cars could create opportunities for farmers to host charging stations," he added.
"Large vehicles may also function like mobile storage batteries, earning income through 'vehicle-to-grid' services and allowing access to ultra-low-cost charging."
The NFU Energy Service, delivered by FEC Energy, had an exhibition stand at the event to inform farmers about their wide range of tailored business advice on energy contracts, energy efficiency and a range of clean energy technologies.