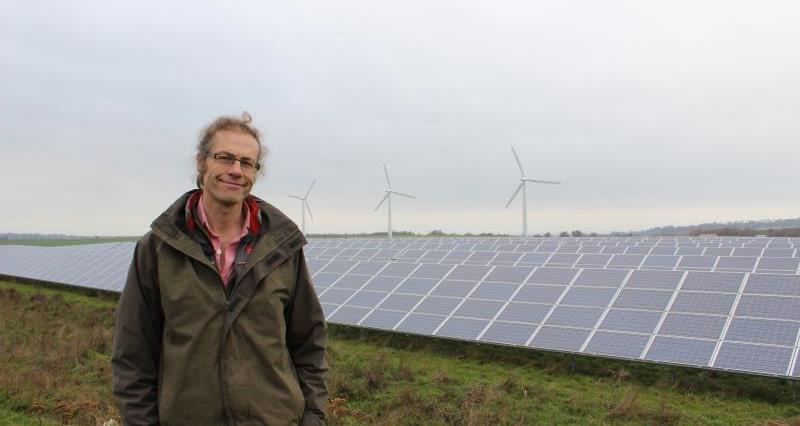 NFU member Adam Twine, pictured in front of the Westmill solar and wind farm which he hosts in Oxfordshire
Renewables accounted for nearly one-third of total UK electricity generation over the period April to June this year, according to the latest energy figures published by BEIS.
Data on renewable electricity capacity and production by region also show that clean power is quite evenly distributed, supporting jobs in every part of the UK - with the obvious exception of the London area.
The share of electricity generation from renewables was a record 31.7 per cent in Quarter 2 of 2018, from around 42 gigawatts of installed capacity (effectively about half of all UK power stations). Solar PV reached a new high at just over 6% of all UK electricity, due to increased capacity and sunnier-than-average weather (as we reported previously): although July's heatwave will actually appear in data for the next quarter-year. Bioenergy accounted for 11% of the total (mostly plant biomass combustion, at 7%), onshore wind 7% and offshore wind power 6%, and hydro just over 1%.
However, the latest monthly statistics show that new solar PV deployment has slowed to less than 250 megawatts per year - a fraction of the huge expansion we were seeing just 3 years ago.