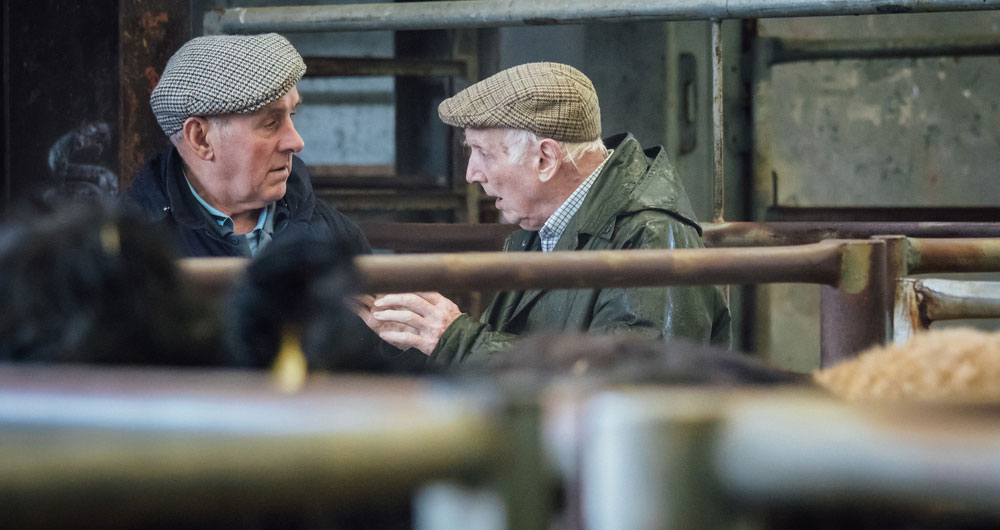 Everyone gets stressed, and a little bit of stress is good for you, or so we are told, but what happens when good stress becomes bad stress? And would you even realise if you, or someone you know, had reached their tipping point?
In October, NFU Vice President Stuart Roberts was giving evidence on the beef crisis to the EFRA Select Committee when the issue of the mental health of farmers was raised.
MPs raised concerns that business worries over falling prices would negatively impact on the personal lives of farmers. Mr Roberts told the committee that the agricultural industry is facing massive change in the foreseeable future.
Whatever you think of Brexit, there is no doubt that the continuing political and economic uncertainty has left us all feeling ground down. But how do you know if you, or someone close to you has slipped into depression? Or even worse, started to harbour suicidal thoughts?
In 2018, the Farm Safety Foundation's Yellow Wellies charity launched a mental health campaign – Mind Your Head – after its research showed that four out of five young farmers believe that mental health issues are the biggest hidden threat to farmers today.
In September, the Farming Community Network (FCN), launched the Farmwell online support hub, that aims to help farmers and their businesses stay strong. Charles Smith, FCN Chief Executive, said: "There is some really good information available to help farmers become more resilient, but this information is very rarely in one place and can often be difficult to access, especially if you are not in the right place mentally. This is where FarmWell can help."
Farming can be an isolated profession, and with the closure of auction marts there are fewer opportunities for people to get together to share concerns or just keep an eye on one another. With Christmas around the corner, this time of year is a good time to check in on your friends and neighbours. And if you are feeling isolated, go along to a branch meeting to keep in touch.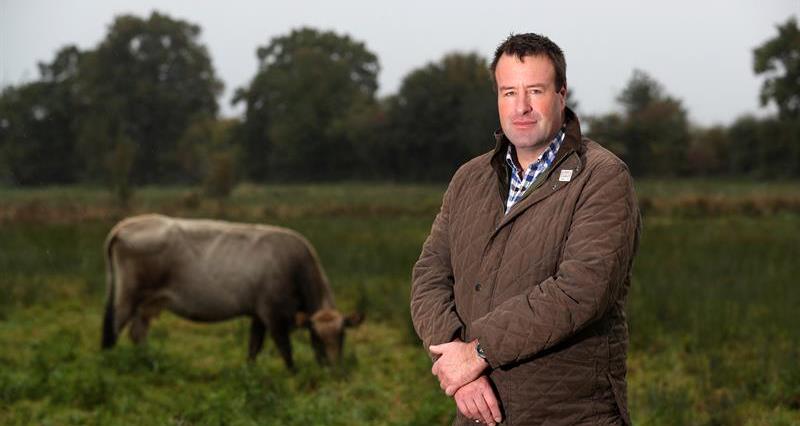 The NFU has been highlighting the issue of mental health with government for some time. Mr Roberts has raised the issue of funding for mental health treatment in the NHS with the former Chief Medical Officer and Defra ministers.
He has also spoken to Lord Gardiner, who is the Defra representative on the team to develop a strategy to combat loneliness in society. Lord Gardiner has looked at how poor broadband and mobile phone coverage affect rural areas, as well as how village halls could reduce rural isolation.
In particular, Mr Roberts has highlighted the issue of mental health in the rural community. "In general the industry is made up of lots of people, some of who are like me, we are butch, macho blokes, we don't have anxiety, we don't have worries, we don't have concerns, we don't have fears – well, yes we do. We forget that there's a question mark at the end of 'how are you?' And we have all got to get better at that because it will come into very sharp focus as we start to see big changes."
Mr Roberts mentioned the New Zealand situation in the '80s when their government got rid of farming subsidies overnight to alleviate a budget crisis.
"Whatever happens, this industry will see change and I get frustrated with people who cite New Zealand which went through all this change, and it is now a phenomenal industry, it is very efficient. We forget the social infrastructure damage, the personal damage and the suicides during that period. We as an industry need to get way better at talking about this subject, and we are."
There are many charities that are offering help to farmers, and in September the NFU brought together more than 40 support groups to work together so that they can support the sector. This charities summit will be repeated on 29 January 2020 at NFU headquarters in Stoneleigh.
YANA has a simple mission: rural mental health support
YANA fully funds confidential counselling. A call to its helpline on 0300 323 0400 can result in fast track access to free counselling sessions from trained counsellors who understand of rural life and the pressures of working in farming and countryside business.
YANA invests in Mental Health First Aid training. To date it has trained more than 80 people in the skills to use for their families, friends or in the workplace when signs show of mental health problems. Delegates have represented grain merchants, land agents, rural churches, police forces and agricultural colleges creating a YANA army of MH first aiders across our industry.
YANA has launched a suicide prevention campaign with an information card 'Seven Tractor Facts to Save a Life':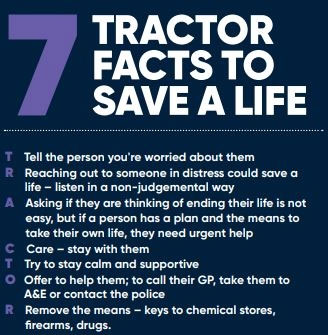 This valuable resource, which encourages people to look out for the warning signs and advises on action to take and available support agencies, has already been distributed across the UK.
You don't have to be a medical professional to help a friend or colleague: know the signs of depression and mental crisis. Spread the word about YANA and what it offers. Ask YANA if you want leaflets, Suicide Prevention cards or the National Directory that it publishes of all rural support groups nationwide or if you would like to sign up to a fully funded MH First Aid course.
"None of us need fear starting conversations about mental health. We all need to provide support and signpost to appropriate help and look out for our friends or colleagues in distress," says Melinda Raker, YANA patron.
"You Are Not Alone with YANA help by your side."
See the YANA website for more details: www.yanahelp.org / email: am9ob2V5QHlhbmFoZWxwLm9yZw==