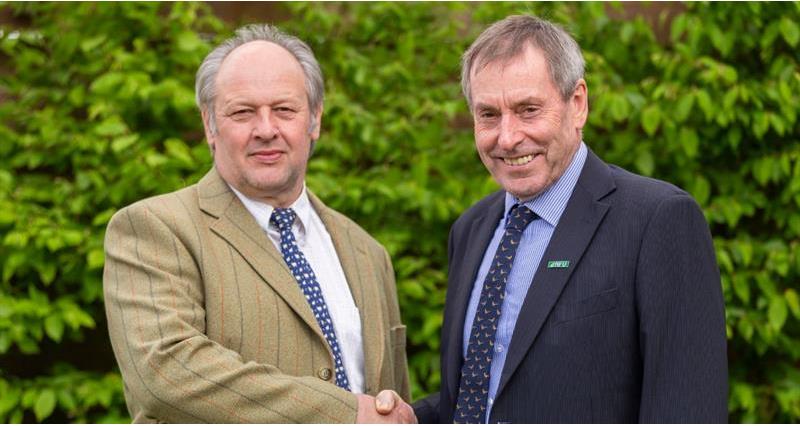 Nick Hamer has been elected as vice chairman of the NFU legal board, succeeding the late Tim Sell who sadly passed away in February.
Mr Hamer is a third-generation tenant farmer at his family business, Henley Farm in Ludlow, South Shropshire. He has sat on the Legal Board for the past five years and was previously the South Shropshire branch chairman and county livestock chairman. He will work alongside the chairman and rest of the Legal Board members who are responsible for ensuring overall budgetary control and the allocation of the Legal Assistance Scheme (LAS) Fund.
Mr Hamer said: "I am thrilled to be elected as the new vice-chairman of the NFU Legal Board and would like to thank my fellow Board members for giving me this opportunity. I would also like to pay tribute to my predecessor, the late Tim Sell, who will be a difficult act to follow.
"Becoming involved in the NFU was a natural progression for me, having been passionate about young farmers and stock judging in my formative years. Now I find myself elected by my fellow board members, it is an honour to serve as vice chairman and I feel privileged to be working with Trevor Foss as board chair. I look forward to working alongside Regina Owusu (LAS manager) and the LAS advisers to continue to be a game changer for our members, being the first port of call for many different and difficult cases when there is no one else to turn to, while also dealing with national issues such as HS2, flooding, delays to BPS payments and many more."
NFU Legal Board chair Trevor Foss said: "I look forward to working with Nick, who has been an excellent board member and I am sure will enjoy the extra responsibility and demands in his new role."
The Legal Board is responsible for ensuring overall budgetary control and the allocation of the LAS Fund. The LAS is a discretionary award scheme offering financial support towards legal and other professional fees incurred in legal disputes affecting the farming or growing businesses of its subscribers.
The scheme makes awards in excess of £1 million each year towards professional fees incurred by applicants with almost 90 per cent of NFU farmer and grower members subscribing to it. Support is available for a wide range of disputes including contract, tenancy, employment, professional negligence, judicial reviews, planning appeals, Trading Standards, Health and Safety Executive and Environment Agency investigations and prosecutions.
The LAS offers good value for money and non-subscribers who wish to know more about or join the scheme can contact NFU CallFirst on 0370 845 8458.