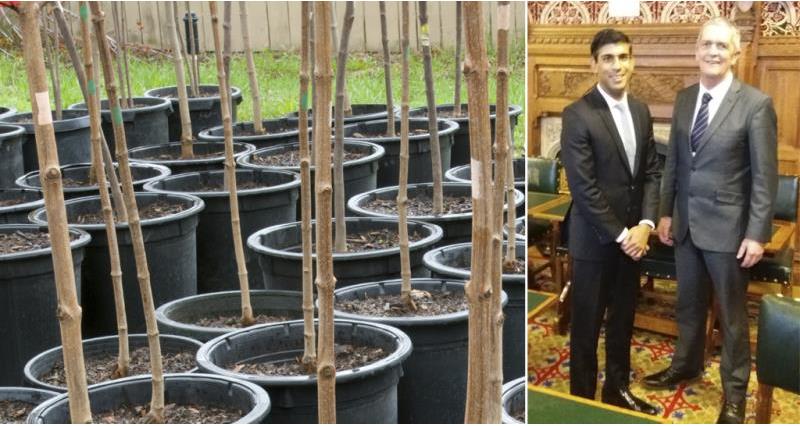 Intense campaigning by the NFU has led to a Government decision that ensures nursery growers are treated equally to other agricultural businesses regarding business rates, in a success for the industry.
Rishi Sunak MP, Minister for Local Government, confirmed that plant nurseries will be covered under the agricultural exemption for business rates, in line with other agricultural businesses.
In a statement given to the NFU, Mr Sunak said that he would bring forward legislation so that these sites are not liable for a tax that could have a negative impact on the cost of farming and that this would include backdating all payments for those affected.
This move, the NFU says, will help redress an inconsistency in legislation which currently excludes nursery grounds growing mainly or entirely under cover from the exemption.
The issue first came to light following a NFU member's long-running legal case, which was finally decided in the Court of Appeal in 2015. This determined that some nursery grounds growing under cover did not qualify for the agricultural exemption to business rates.
NFU Deputy President Guy Smith, who met Minister Rishi Sunak yesterday, said: "I'm pleased the Minister has recognised the importance of the exemption to the industry, particularly with Brexit causing uncertainty for farm businesses.
"It means plant nurseries which have had to pay business rates will no longer have to do so. It will also be applied retrospectively to 1 April 2015 so those nurseries will be reimbursed any payments. In some cases individual NFU members will see very substantial and unsustainable charges either waived or reimbursed.
"Over the past three years we have been campaigning hard and engaging with various Government departments, including Defra, to address what we believe to be an anomaly – and not Parliament's intention - one which would have had damaging widespread implications for the nursery growers and the wider horticultural industry which depends on them.
"There has also been support from the British Gowers Association, the Horticultural Trade Association and its panel rating firm, Turner Morum, as well as from the NFU Legal Assistance Scheme."
In his full statement Rishi Sunak said: ""This Government is committed to ensure that both agricultural land and buildings at plant nursery grounds are exempt from business rates.
"We will be bringing forward legislation as soon as we can so that these sites are not liable for a tax that could have a negative impact on the cost of farming and produce. This includes backdating all payments for those affected.
"It's all part of our plan to have a productive, competitive and sustainable UK agricultural sector."