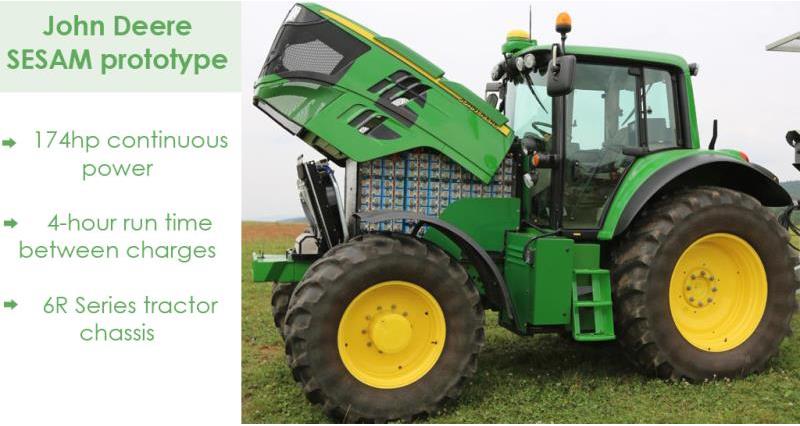 Electric tractors may be coming to a field near you, at least ten years sooner than many commentators had anticipated, writes NFU renewables expert Dr Jonathan Scurlock.
John Deere is about to show off a prototype based on their 6R Series tractor chassis that can deliver 174hp of continuous power and run for four hours before recharging its battery. The SESAM prototype (Sustainable Energy Supply for Agricultural Machinery) has already been given a 'special mention' award at the French SIMA farm machinery show in Paris, to be held 26 Feb - 2 March 2017.
A new NFU paper 'Electric tractors by 2020? – a review of advanced vehicle technology in the agricultural sector' is our attempt to describe briefly all the possible technology options on the table, including the considerable safety benefits of switching from mechanical (PTO) to electrical interfaces. Download a copy here or below.
Imagine a farm where electric agricultural vehicles, some autonomous, some conventional, are connected to charging points in large solar PV equipped 'carport-style' machinery sheds, earning additional income from so-called 'vehicle-to-grid' network balancing services while they are on-charge. This may be no longer science fiction, but instead the technology of the near future.
We anticipate that both diesel-electric hybrid and battery electric tractors will be widely available from 2020 onwards, while bio-based low-carbon fuelling of agricultural vehicles may remain more of a niche opportunity. Autonomous aerial and ground vehicles are also expected to make a growing contribution to farm management.
The NFU stays up-to-date with the latest technological developments in British agriculture and horticulture, in order to campaign more effectively for farmers and to champion a forward-looking industry.