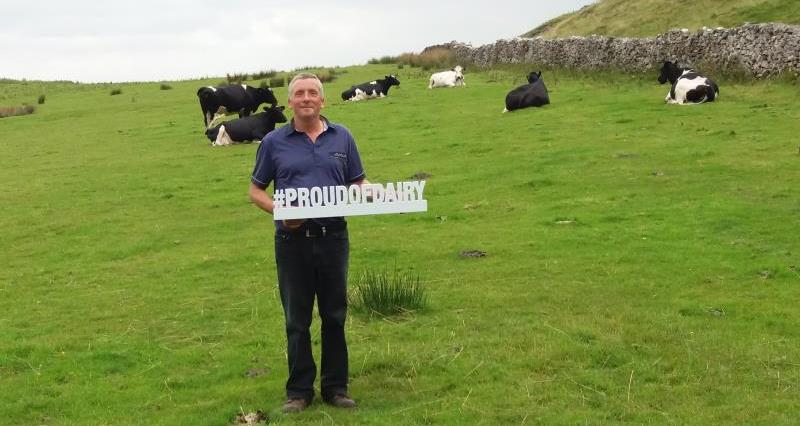 Farming a total of 1000ac in the Forest of Bowland (an AONB), John Alpe runs an upland beef, sheep and organic dairy farm across four neighbouring sites.
Background
John started farming here as a tenant to the Duchy of Lancaster on New Laund Farm (200ac) in 1960.
In 1993 he expanded onto Higher Greystoneley Farm (90ac), and then Dinckley Grange in 2000 and finally, in 2010 Fencewood Farm. These are all LFAs, ranging from 500ft to 1500ft above sea level. Alongside his 40 head organic dairy herd, John also has 1000 breeding ewes, a beef herd and youngstock, as well as a family butchers in Clitheroe. John views the fifth enterprise in his business as the environment and public outreach; for the last 20 years they have been involved in CSS, HLS and OELS, as well as hosting various open days and other outreach initiatives.
Environmental Work
"As the farm is in an upland area, I have chosen HLS options which fit the environmental needs of the area. These include 120ac in a heather moorland regeneration scheme, 15ac of species rich hay meadow (with cutting dates after the 15th July) and 170ac of species rich pasture grassland, which contains ragged robin, harebells and primrose.
I'm also particularly keen on supporting the birdlife on the farm, and have created 180ac of habitat for ground nesting birds such as curlews, oyster catchers and lapwings, alongside 10 scrapes for them. Subsequently I'm keen to pursue opportunities to work with ornithological groups, such as the RSPB, by hosting visits and carrying out bird count surveys.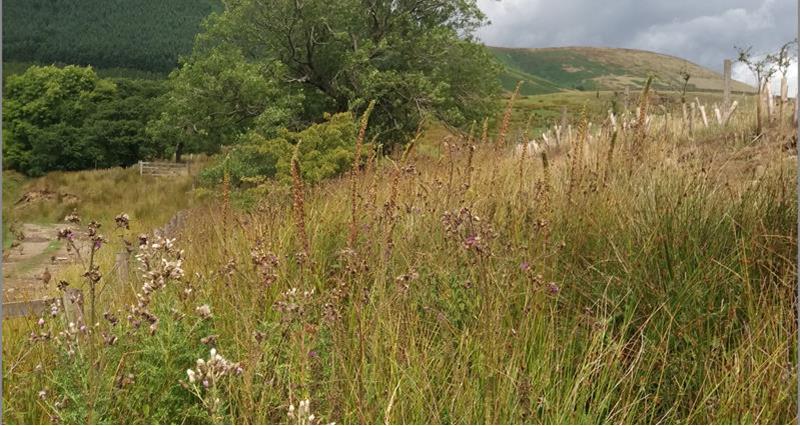 The wildlife and wildflower plots have facilitated an increase in insect life on the farm, particularly with the later topping dates, or even areas which are left untopped to create more habitat areas. There are also three plots of woodland regeneration, each around 4-5ac, which also create species rich habitats, as well as regular drystone wall restoration on the farm.
Access
"I'm committed to encouraging public access on the farm, particularly for disabled or special needs groups, and this has formed a central part of the entire business. We host between 25 and 30 different visits or open days a year. There is a 1km of permissive footpath, with 3km of disabled access pathways on the farm.
Whilst these are always open, we hold disabled access open days which help to promote these access opportunities. With the support of local council 'trampers' (all terrain mobility scooters) visitors are free to explore the farm using the pathways. We have also built disabled facilities to support these groups, and to improve access to the trailer so we can take groups on trailer rides around the farm.
There is also a set of stepping stones across the River Hodder, which we help groups to cross, including those with mobility issues who need additional support. Our ability to host such access days would not be possible without the support of my neighbours, who give us access to their tracks.
This access to the outdoors and new experiences, such as driving over cattle grids in a trailer or crossing the river using stepping stones, is really popular, and I believe that individuals can take a lot away from these days and get a true sense of achievement, which is rewarding for me too. I particularly enjoy meeting new people and seeing them learn, which can really help them in the future.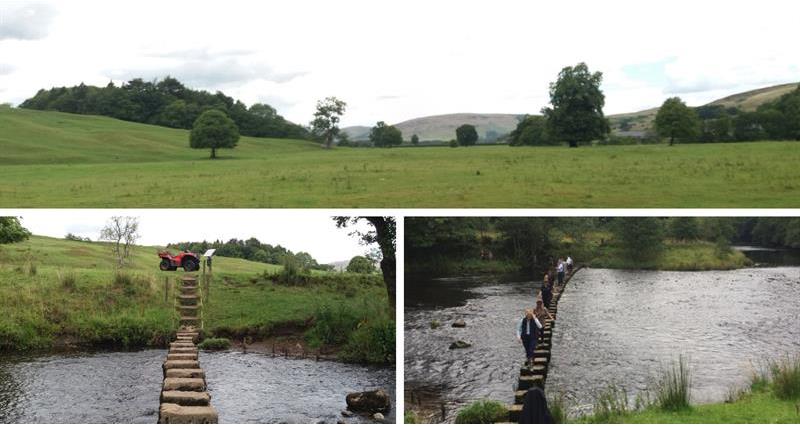 "Educational access is also extremely important, and I often hosts minority groups, schools and other educational institutions, and also visit schools across the country to teach them about farming. I have links with LEAF and am keen to work further in this area. Groups are interested, and very supportive, of the environmental work that we're doing on the farm, and it is important to educate them about this work.
With such an emphasis on access alongside the environment on our farm, I hope that future schemes place a similar emphasis on educational access, as it was the support we received from the schemes which first encouraged me to get involved with public access, which has now developed into a major part of our wider farming business.
The Future
"Looking to the future, I am keen to continue this environmental work and the access opportunities I provide, but due to the financial and time costs, it would not be possible without the funding we receive, and so future schemes need to take this into account. I am also concerned about the future of my current scheme, post-Brexit: we joined HLS in 2009 on a 10 year agreement, and the uncertainty about what will happen after 2019 makes it difficult for us to plan for the future.
Now that the farm is set up to run environmentally, and we have put in so much investment to improve the infrastructure to facilitate all the access opportunities, it would be very difficult to continue without a similar scheme. Ideally, I would like the scheme to roll over, at least for a couple of years, while future schemes are planned: I'm happy with HLS and what we have achieved through it.
Rolling the scheme over would allow me to continue running my farm in this manner, with the environment and public access at the centre, without the uncertainty of short term future funding."