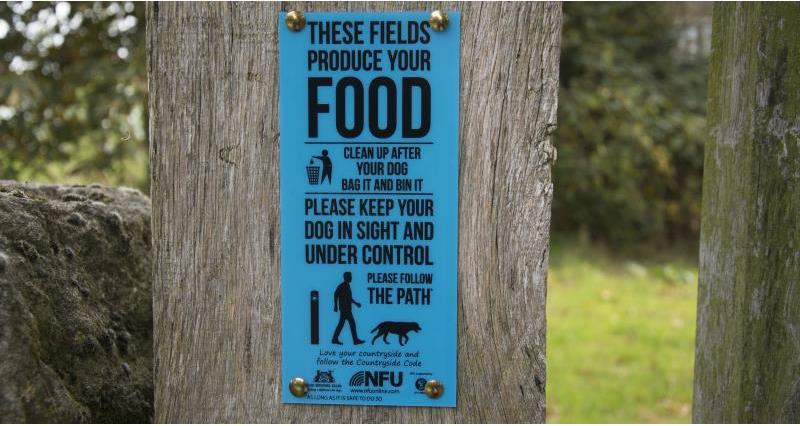 The NFU has produced a new gatepost sign for arable and horticultural members with rights of way crossing their land.
The NFU has again teamed up with the Kennel Club to produce a new gatepost sign, to educate members of the public on how to responsibly enjoy the countryside. The sign directly addresses two issues frequently raised by members: members of the public trespassing or straying from the footpath; and footpath users not clearing up after their dog, or placing dog poo in a bag, but not taking it away with them.
The sign has been produced off the back of the success of the yellow dog-walking sign we produced, primarily for livestock members, giving a clear reminder to walkers using public footpaths to keep dogs on leads around livestock, but to let them go if they're being chased or feel threatened by cattle.
Advice to walkers:
The NFU has previous worked with Natural England, the Kennel Club, the Ramblers' Association and others to produce the Dog Walking Code which elaborates on the generic advice in the Countryside Code. We encourage visitors with dogs to follow the advice contained within the Dog Walking Code to responsibly enjoy the countryside.
Key messages for arable and horticultural land contained within the code include:
Do not let your dog off the lead unless you keep it in sight and close enough to come back to you on command.
Keep your dog with you on paths or access land and don't let it stray into crops including fields of grass, fruit and vegetables.
Always bag and bin your dog's waste wherever you are. You can use any public waste bin or your bin at home.
Follow paths and leave gates and property as you find them.
Use gates, stiles or gaps in field boundaries if you can - climbing over walls, hedges and fences can damage them and increases the risk of farm animals escaping.