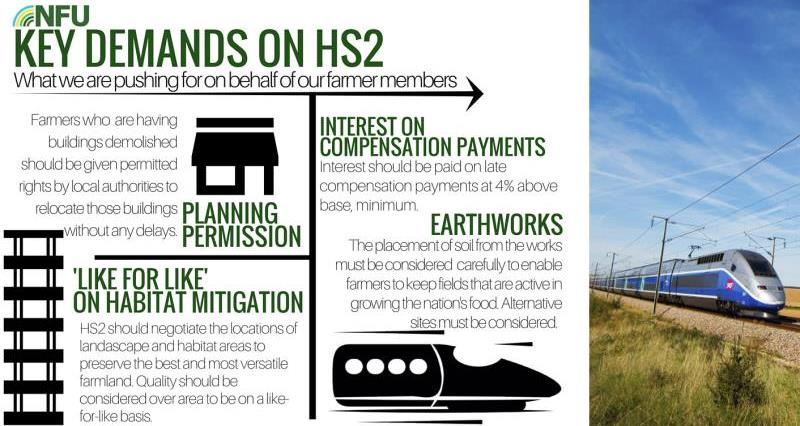 A group of peers will hear NFU evidence based on our petition to the House of Lords to ensure farmers affected by HS2 are receiving a fair deal.
The evidence session before a House of Lords Select Committee is due to take place on July 5. This is the second time the NFU has submitted a petition on the planned railway line and gives NFU leaders and experts another opportunity to make key demands following the May 2014 appearance before MPs.
Rural surveyor Louise Staples said: "It is imperative we ensure that the House of Lords is fully aware of the impact of HS2 on farming and the pressing need to mitigate its effect. The line is set to have an impact on hundreds of farms along the route so I will be explaining to peers how important the land being taken is to food production and farming businesses."
Some of the NFU's specific asks of government on HS2 include:
Capital Gains Tax
There should be a Capital Gains Tax exemption due to the size of the scheme and the land take required. If not, the time period should be extended to ten years as highlighted by the select committee.

Drainage
Stronger commitments are required over the rectification of damage to land drainage systems.

Utilities and Culverts
Landowners need to be able to install cables and pipes under the railway line and not to be ransomed.

Remedial Works
Concerns have been raised over damage caused during construction being remedied promptly. Further clarification sought on how the small claims scheme and the construction commissioner will work.

Temporary possession for maintenance
If land is to be taken for maintenance, six months' notice is requested, not 28 days.