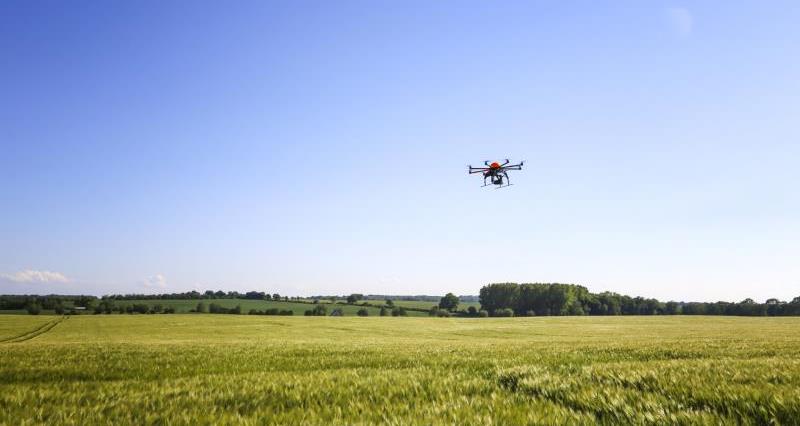 Drone registration is mandatory and regulation for drone use was updated on 31 December 2020 to bring the UK in line with the rest of the EU.
Drones are a familiar site within agriculture, but it is your responsibility to ensure you are flying responsibly and legally.
New rules came into force on 31 December 2020 to align regulations across EU member states and standardise the process for drone operations. For many people the basic rules on their day-to-day flying won't change, but there are some important amendments that users need to be aware of.
What are the changes?
The amended regulations move to a risk-based system and the distinction between commercial and recreational flying is removed. The new rules focus on the risk of the flight, based on the weight and type of the drone, and location of flight.
There are three new types of drone category - high, medium and low:
Low-risk, or open-category, drones will not require any authorisation, but will be subject to strict operational limitations.
Medium-risk or specific-category drones will have to have authorisation from the national aviation authority on the basis of a risk assessment.
High-risk or certified-category drones will need to follow aviation rules, and this will apply to future drone flights with passengers.

The low-risk category, which accounts for the majority of hobbyist drones, will also have additional rules about where they can be flown:

A1 – drones weighing less than 250g (0.55lb) can be flown over people.
A2 – drones weighing more than 250g but less than 2kg must be flown at least 50m (164ft) away from people.
A3 – drones weighing more than 2kg but less then 25kg must be flown well away from people.

UK-based users are still required to have passed the Civil Aviation Authority's (CAA) official theory test and to have obtained a flyer ID to be allowed to fly any drone weighing over 250g.
On the 28 January 2021 the minimum age requirements for remote pilots operating drones in the Open and Specific categories were removed. You can read more here.
The Drone Code
Drones will continue to be governed by the CAA's amended Air Navigation Order 2016. Follow the Drone Code to make sure you are flying safely and legally:
From 30 November 2019 you must pass the drone test to obtain a flyer ID and register with the CAA to obtain an operator ID.
Always keep your drone or model aircraft in direct sight.
Never fly more than 400ft (120m) above the surface and stay well away from aircraft, airports and airfields.
Never fly closer than 50m to people and keep the same distance horizontally. (This does not apply to drones weighing less then 250g or in class C0 or C1 but you must not intentionally fly over people.)
Never fly closer than 50m to buildings, cars, trains or boats.
Never fly directly over a crowd of people.
Keep at least 150m away from residential, recreational, commercial and industrial areas, this does not apply to drones weighing less then 250g or in class C0 or C1.
Never fly in an airport's flight restriction zone. For further information on a restriction zone, click here.
Follow any flying restrictions and check for hazards before you fly.
The Drone Code can be found here. For more information on drones visit the CAA website.