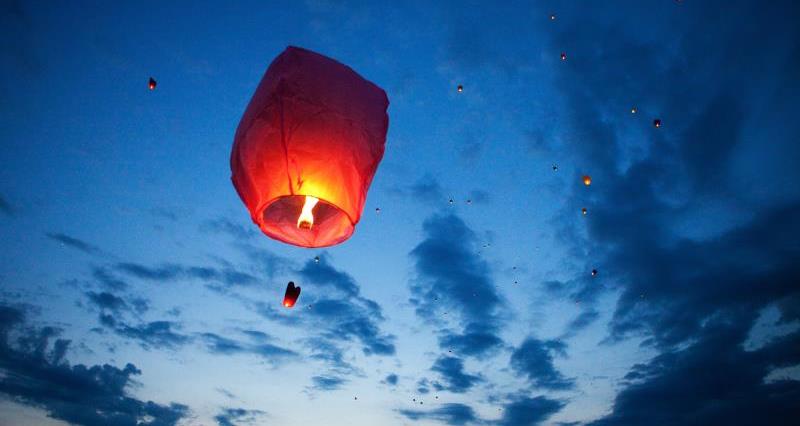 Farmers have again raised their concerns over the dangers of sky lanterns, as a festival releasing the lights announces four new dates.
Shine Up Festival has announced four new dates for the lantern-releasing festival, in Maidstone, Kent; Potters Bar, Hertfordshire; and two sites yet to be named.
Concern and anger expressed by farmers over the potential damage this could cause to their livestock and land has led to the Maidstone, Kent festival being temporarily cancelled.
The NFU continues to engage with local councils and encourages them to ban the use of sky lanterns wherever possible to protect the welfare of livestock and farmers' land.
NFU chief land management adviser Sam Durham said: "Sky lanterns pose a very serious risk to livestock and the NFU continues to encourage councils to ban the lanterns in order to ensure that farmers are able to continue their work without worrying about additional, unnecessary dangers.
"It's important to point out that it's not just farm animals which can be affected. Sky lanterns can cause fires to crops, grassland on moors and bales of hay and straw that have been stacked, which could lead to a loss of buildings.
"The NFU has already seen some councils ban the use of sky lanterns and we would encourage more to follow suit. Members of the public, and farmers, can play a big part by writing to their local councils spelling out just how dangerous sky lanterns can be.
"Although the festival uses biodegradable lanterns made of bamboo, this is still not enough to minimise the risk that sky lanterns pose. Bamboo is still a hardy and sharp material that can pose real risk to farmers' livestock."
The NFU's Love Your Countryside campaign has produced a leaflet warning event organisers of the dangers of sky lanterns. The release of the lanterns may look attractive but the effects on farm can be extremely damaging.