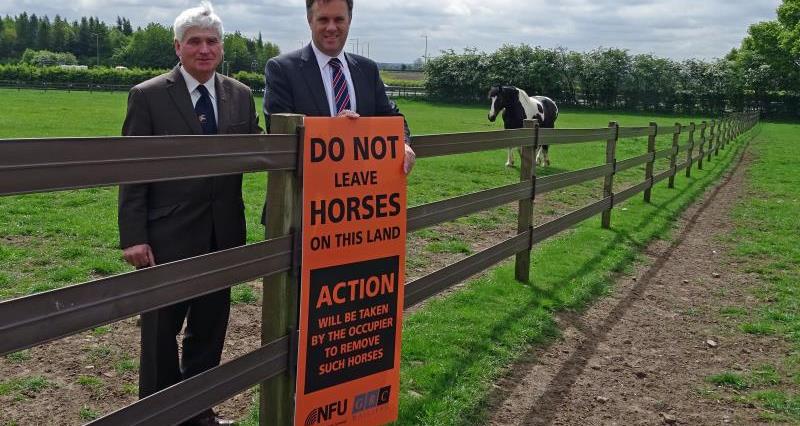 A year ago The Control of Horses Act was brought into force to combat fly-grazing. Here the NFU's assistant land management adviser Rupert Weaver reflects on how successful it's been.
Fly-grazing, or the illegal dumping of horses on farmland, is not only a nuisance it costs the agricultural industry dear.
It damages fields and results in a loss of grazing land, both of which impacts on a farm's bottom line. More than that though, it all too often leaves farmers facing large vets bills, because they become legally responsible for the welfare of the dumped equine. As fly-grazing is associated with poor horse welfare, it's unlikely a farmer would escape some sort of vet's bill.
It really is a head's you win, tails I lose situation for farmers, who have little chance of finding the dumped equines' owners. The reason for this is that despite legal requirements to have a horse passport, and for the equine to be microchipped if the passport was obtained after 2009, the majority of fly-grazed equines have no identification.
A Central Equine Database is due to be in place from Friday, 1 July, but without appropriate enforcement steps it's likely to have little impact. I'll return to the issue of enforcement in a moment.
Where the farmer does find the owner though, things can become even more sinister. Many farmers have found themselves on the receiving end of threats and intimidation from the owner, who is keen to leave their animal on someone else's land and pass on the expense of feeding it – and caring for it – to the farmer.
It makes for depressing reading, but there is good news.
As a result of lobbying by the NFU, the Control of Horses Act came into force in England in May 2015, after being introduced as a private bill by York Outer MP Julian Sturdy.
Before the Act, English law failed to provide farmers with any real way of dealing with a fly grazed equine for a minimal of two weeks. After that, their options in terms of removal or humane disposal were extremely limited.
Yet the Act has changed a lot of that. It dropped the time a farmer had to wait before taking action from 14 days to 96 hours, vastly decreasing the time the landowner is responsible for the horse.
It also allows the immediate detention of a horse, and increases the options for dealing of a horse to include rehoming, selling, or as a last resort, humane euthanasia.
It's good news, but farmers should still beware.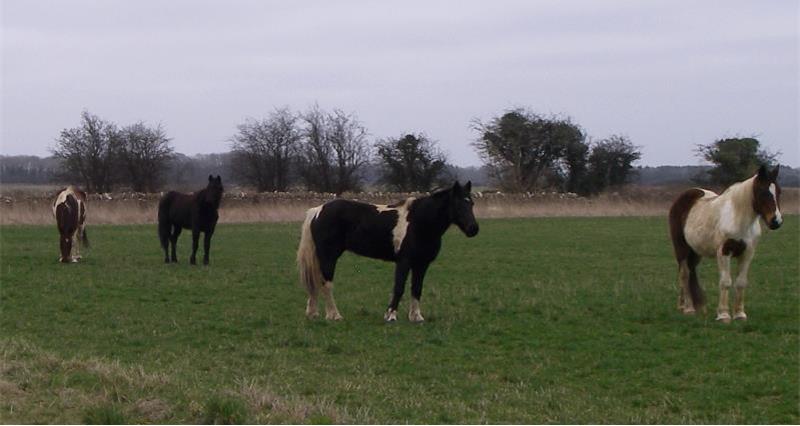 The process for removing a horse has been simplified but there are still conditions that must be adhered to.
For this reason, it's probably best for farmers to get professional help when removing a fly-grazed equine.
Yes, it means added cost, but specialist bailiffs have the experience to ensure the Act's conditions are adhered to, and will be better equipped to deal with the practicalities of the removal.
This includes putting up signs, rounding up the horses, moving them to a safe yard and – all too often – disposing of the equines as well.
But perhaps the question most readers want to ask is - has the 2015 Act been effective?
There has been an overall drop in fly-grazing, but the jury's still out on whether that's a result of the Act. Some claim the drop is because the worst of the recession is over, meaning cash strapped owners are no longer fly-grazing.
The overall drop also hides the fact that in some areas there has been a sharp increase in fly-grazing.
This is because horses involved in it are often moved long distances by lorries, meaning the worst hit areas are often along transport corridors. Another issue is that when one area has a crackdown on fly-grazing, it pushes the issue into a neighbouring area where it's not so stringently enforced.
Sadly there is no obligation by either the council or the police to enforce the Act, so areas with less robust enforcement have become targeted by fly-grazers.
This is in contrast to areas where the council and police have worked together on the issue, and all but eradicated the problem. In other words, the Act has been effective, so where fly-grazing remains a problem, it's likely to be down to ineffective enforcement.
It is essential police forces and councils work together to enforce the act and horse identification legislation. If they do, the Act really could make fly-grazing a crime of the past.
See also: