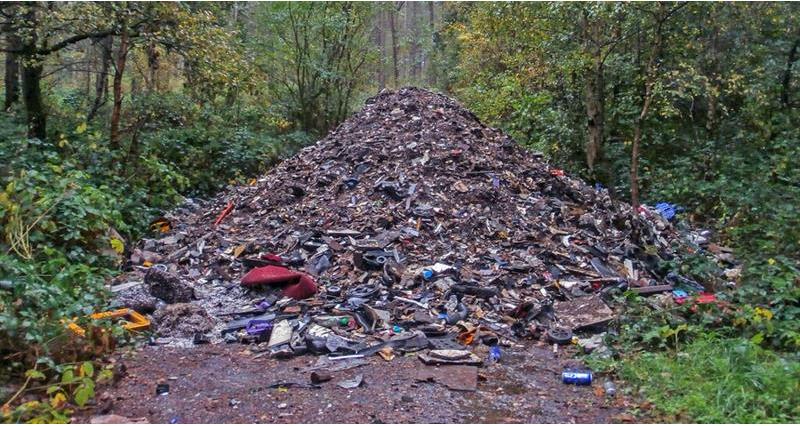 Fly-tipping is an issue that affects two-thirds of all farmers. When an incident of fly-tipping occurs on private land, it is the landowner's responsibility to remove the illegally dumped waste, at great cost and effort. As well as implications on landowners, it can be dangerous to human health, wildlife and livestock, particularly if on regular walking routes. In some cases it can pollute watercourses and contaminate land.
Use these links to jump to a particular section:
Large scale fly-tipping | Hazardous Waste | Steps to prevent fly-tipping | How to tackle fly-tipping | Who to call and when | Member Discounts | Read more
The most common size category for fly-tipping incidents in 2017/18 was equivalent to a 'small van load' (33% of total incidents), followed by the equivalent of a 'car boot or less' (28%). However, it is becoming clear that fly-tipping is not just instances of household waste. Large-scale and hazardous waste fly-tipping events have devastating impacts on our rural communities.
Large scale fly-tipping:
Commercial fly-tipping events are becoming more prevalent across the UK. Industrial dumping incidents involve large lorry loads of commercial waste. In 2017/18, 34,000 (4%) of total incidents were of 'tipper lorry load' size or larger. These larger scale events are often conducted by organised criminals. Criminals use lock-cutting tools to break into private land and tip vast quantities of waste that can cost hundreds of thousands of pounds to clear. The cost of large-scale clearance to local authorities in England in 2017/18 was £12.2 million.
Hazardous waste:
Uncontrolled illegal waste disposal can be hazardous to the public, especially if it contains toxic material or asbestos. There could be a risk of damage to watercourses and soil quality from the dumped waste. This can also be hazardous to wildlife, livestock and humans. Hazardous waste is that waste over 75 litres in volume and has the potential to damage the environment.
Steps you can take to prevent fly-tipping happening on your land:
Restricting access to your land by installing gates or physical barriers (strategically placed earth bunds, tree trunks, boulders etc.).
Make sure gates are closed and, if possible, locked when not in use.
Improving visibility so that fly-tippers are not hidden from view. Fly-tippers prefer to commit their crimes out of sight.?
Install or improve lighting if possible.
Consider placing appropriate deterrent signage and CCTV cameras.
Swiftly clear any waste that is dumped to remove any encouragement for others to add to it.
Manage your sites effectively. Keeping areas tidy and removing waste quickly.
What to do if you have issues with fly-tipping on your land:
You need to report every instance of fly tipping to the relative authority. Detail on what to report, and the relevant authority to report to, is outlined below.
The steps above outline what you can do to deter not only fly-tipping but all rural crime. For example, installing CCTV, Trail and/or Dash cameras may help to gather intelligence on a variety of rural crimes.
Work with others, such as your neighbours and local businesses. It is important to take advantage of existing partnerships and initiate new collaborations. These will spark up conversations and collective efforts to combat fly-tipping.
Who to call and when?
Urgent: If a crime is in progress dial 999.
State that someone is fly-tipping and that it is a criminal offence.
Describe person/their behaviour/appearance/distinguishing features.
Describe what they are doing.
Did they use a vehicle? Note the make/model/colour/registration plate/any distinguishing marks.
Can you see what is being dumped? Describe the waste.
Take photographs/videos if safe to do so.
Location of the waste including any landmarks, street, town, grid reference, what3words location, or if it is in proximity to water.
Non-Urgent: Dial 101 to report a crime after it has taken place. If it is a large-scale issue you should also report to the incident to the Environment Agency (for England) or NRW (for Wales).
State someone has fly-tipped on your property.
Day/date/time waste was discovered.
Location of the waste including any landmarks, street, town, grid reference, what3words location, or if it is in proximity to water.
Description and quantity of the waste e.g. bag, drum, fridge, tyres, building waste.
Take photographs/video evidence.
Ensure waste is disposed of safely and responsibly once the relevant authority has all the evidence.
Provide information: Contact Crimestoppers to give information 100% anonymously. You can submit information online at www.crimestoppers-uk.org or call Crimestoppers on 0800 555 1111.
Callfirst, our dedicated member helpline, is there to answer questions to help you run your farming businesses effectively.
Simply call 0370 8458458 or fill out this form and your query will be sent straight to the CallFirst team.