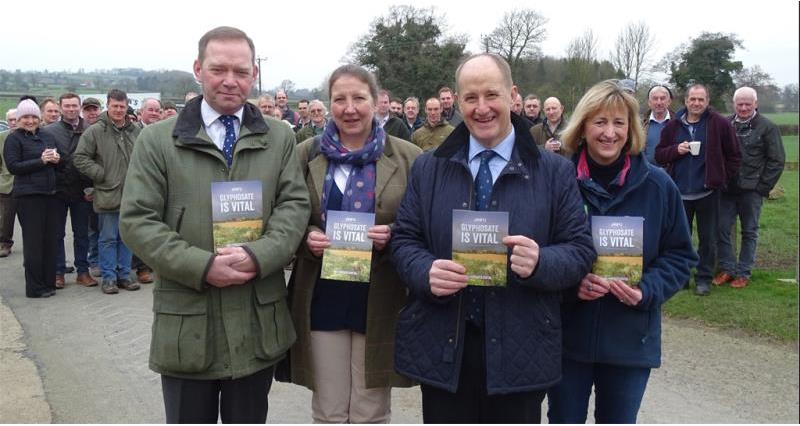 Yorkshire farmers turned out in force for a day of campaigning on glyphosate recently, with two meetings organised by local group secretary Jenny Dawson.
The message that glyphosate is vital to the future of arable production could not have been made any clearer, writes North Riding & Durham county adviser Laurie Norris.
Around 50 members arrived on-farm in the morning to meet local MP Kevin Hollinrake and MEP John Procter. A further 30 farmers met Andrew Jones MP in the afternoon.
Attending both meetings was NFU national plant health adviser, Emma Hamer, who explained the importance of glyphosate as part of the armoury for weed control, while putting into context that glyphosate is less toxic than baking soda, table salt and the caffeine in our coffee yet protects soil life such as earth worms and reduces carbon emissions.
Emma said: "This molecule has been around for four decades. It is benign and really is vital to our efforts to produce safe, affordable food for a growing population.
"The campaign to get is banned is based on misunderstanding and mistruths – we really do need to campaign hard to make sure this debate is based on fact not fiction.
"Without glyphosate, increased ploughing would in many cases reverse improvements to soil structure, increase greenhouse gas emissions and destroy more earthworms. A return to mechanical weeding could also impact on key ground-nesting birds such as skylark and grey partridge."
Everyone was urged to encourage farmers to write to their MP and/or MEP to outline the importance of glyphosate and, by using social media, to show why glyphosate is vital to their businesses.
This was reiterated by each politician, who while very supportive of the case, wanted to hear at first-hand its importance to farmers and the impact a ban may have.

Glyphosate - we need your support