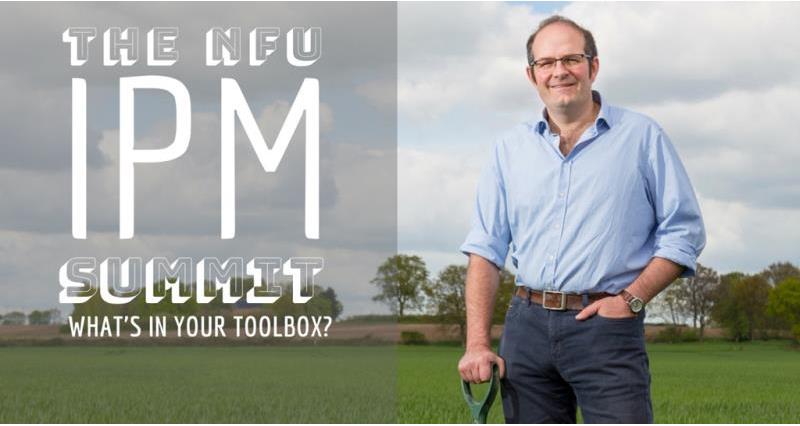 This week the NFU held its first Integrated Pest Management (IPM) Summit bringing together industry professionals, academics and arable farmers to discuss research and on-farm practicalities of an integrated approach to managing pests and diseases.
The Summit, held at NFU HQ in Stoneleigh, Warwickshire saw debates and presentations from the Voluntary Initiative, Rothamsted Research, AICC and AHDB as well at the NFU's own member case studies – all of which will revolve around the tools, chemical and non-chemical, available to farmers to manage crops.
Chairman of the NFU's Crops Board Tom Bradshaw (pictured above) opened the IPM Summit with a speech that called on delegates to proactively talk about how they farm and give insight into the decision-making process that happens before turning to use plant protection products.
Ahead of the event, Mr Bradshaw said: "Today's summit will be a fantastic opportunity to bring together farmers, scientists, academics and industry professionals to share our experiences and learn from one another.
"As an industry I believe we have neglected to talk about the fantastic work taking place on farm and how farmers are considering both non-chemical and chemical methods to protect their crops from pests and diseases.
"Going forward we need to make sure that policy makers realise that farming is incredibly complex and to make sure there is a safe, secure, affordable supply of food we need access to all the tools in the toolbox.
"New products are few and far between so we need to make sure we do everything we can to maintain access and prevent resistance to the current products we have access to. Astute implementation of integrated management techniques is crucial to that."
Key messages from the summit
Farmers must be proud of what they do and must educate the public that, when farmers finally reach for the can, it is as a result of serious consideration and is the safest way to deliver the high quality British food that is enjoyed across the world.
A key theme throughout the day was soil. The panel and delegates all agreed that soil health is the starting point and the industry must work together to ensure soils are fit for future challenges.
The afternoon saw all 70 delegates engage in an interactive voting session which identified certain knowledge gaps and R&D needs.