The active ingredient chlorothalonil is currently going through the re-authorisation process in Europe.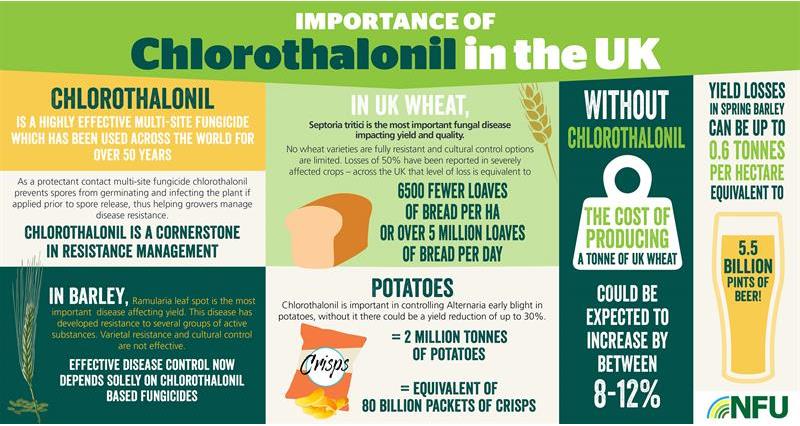 Chlorothalonil is a highly effective contact fungicide with multiple modes of action (usually referred to as a "multi-site inhibitor"). This means there is a low risk of fungal diseases developing resistance to chlorothalonil and therefore the active is of particular importance in agriculture and horticulture.
It is a cornerstone in resistance management. This is achieved in practice by chlorothalonil replacing or supplementing other fungicides which are known to be more susceptible to resistance, including strobilurins, carboxamides and azoles. As a result resistance development is kept under control, which ensures a broad spectrum of active substances are available for the effective treatment of fungal diseases. This is essential for growers and helps to ensure that a range of tools remain available for the prevention and control of fungal diseases in plants, including those important products that control diseases that can lead to mycotoxin formation (mycotoxins are a serious public health risk).
The European Food Safety Authority (EFSA) published its Conclusion on 30 January 2018. Despite a positive report from Rapporteur Member State, The Netherlands, the EFSA Conclusion describes a number of concerns that has led the European Commission to propose non-renewal of chlorothalonil in Europe. If Member States agree, then chlorothalonil will be removed from the market.
The loss of chlorothalonil would have a disproportionate impact on UK cereal farmers compared to many of their EU peers, because of our maritime climate. Chlorothalonil is especially important for the control of fungal diseases in barley, wheat, narcissus and asparagus.
Growers may wish to consider the importance of chlorothalonil to them and, if they are concerned about the potential loss of products, be sure that their views are made clear to national regulators.
It is hoped that there will be a pragmatic, scientifically sound review conducted in the EU to allow the continued use of chlorothalonil. Our preference is that no decisions be made until the ECHA classification process is completed, along with the other arguments presented to address concerns raised by EFSA.
However, because of 4 areas of critical concern in the dossier, non-renewal is a very real possibility. In order to emphasise the importance of chlorothalonil to Government and regulators, the NFU has produced an infographic highlighting how it is the backbone of many fungicide programmes.