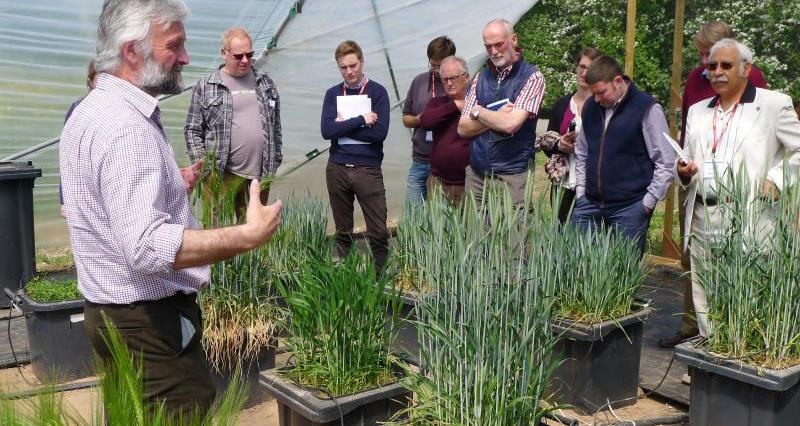 NFU members and advisers joined a group of farmers and other stakeholders for a day at Harper Adams University in Shropshire this week to look at crop trials as a backdrop to discussions about the future impacts of climate change and drought on UK crops.
The trials are part of the Drought Risk and You (DRY) Project. The project, funded by the Natural Environment Research Council as part of its UK Droughts & Water Scarcity programme, is taking a pioneering approach to better understand drought by bringing together a blend of hydrological and ecological science and stories from different water users to inform drought risk decision-making in England, Scotland and Wales.
Dr Ivan Grove, senior lecturer at Harper Adams University, explained that the crop trials have been designed to investigate the response of different crops to a range of dry and drought conditions based on some of the more likely climate change scenarios based on UK Climate Projections (UKCP09).
Dr Grove pointed out that since drought is an inevitable part of UK agriculture, it will be really important to better understand how crops will respond to drought events.
"In drought conditions, plant photosynthesis slows, leading to a decline in crop yield which in turn can lead to a fall in farm income'" explained Dr Grove.
Warwickshire farmer Robert Lockhart, a member of the national NFU Environment Forum, was enthusiastic – but realistic – about the research being undertaken.
"Anything that can help me to better understand the risks of future water shortages and droughts must be a good thing," said Robert.
"Analysis of crop yield response to water shortages in controlled conditions is definitely useful, but for me yield means marketable yield - my crops are grown for a market with high specifications", he said.
The Harper Adams crop trails are taking place in a polytunnel so that a range of crops - wheat, barley, triticale, durum wheat, quinoa, perennial ryegrass and Lucerne – can be subjected to irrigation patterns based on different climate change scenarios.
The trial is also experimenting with 'anti-transpirates', film-forming compounds applied to the crop leaves which reduce evapotranspiration by sealing the stigmata to prevent water loss.
The visit to Harper Adams gave farmers the chance to see for themselves some drought-related crop research and gave rise to useful discussions about how farmers should prepare for extreme weather events, different attitudes to risk, and where drought fits in comparison to all the other risks that farmers face.
Robert Lockhart said that for many farmers climate change is a low priority in the short-term, but that doesn't mean it's something to ignore.
"When thinking about our on-farm response to future droughts we need to adopt 'no regrets' strategies so that we avoid taking a path today that we only find was the wrong choice when it's too late," he said.