British Farmer & Grower magazine looks at how some parts of the industry are turning to technology to help mitigate worker shortages and boost productivity.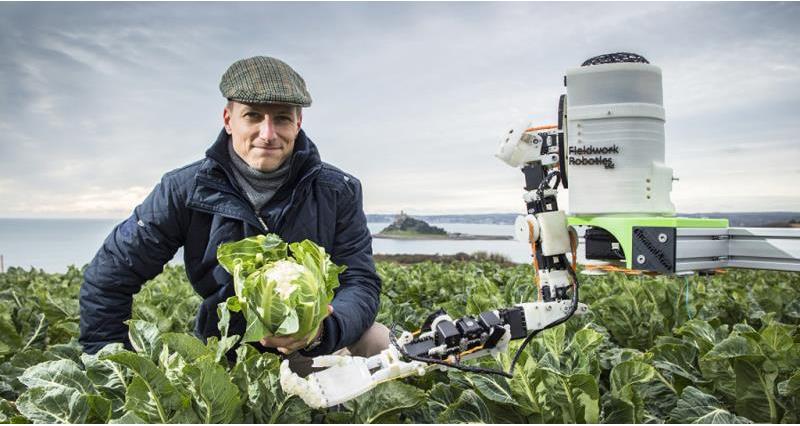 Getting a helping hand
Sector: HORTICULTURE
The Automated Brassica Harvest in Cornwall Project is developing technology to help with the cauliflower harvest and potentially other fieldwork operations.
It's being led by University of Plymouth robotics lecturer Dr Martin Stoelen, with key agricultural expertise provided by Professor of Plant Physiology Mick Fuller.
"A lot of producers are worried about where they will get their reasonably priced labour from," said Dr Stoelen. "Manual harvesting also represents a large portion of their total costs, often it can be up to 50%, so looking at addressing that, especially against a backdrop of Brexit, is very important."
His vision is to create small, mobile machines that could perform this task. With support from Agri-tech Cornwall, he is designing, building and testing a rig under field conditions.
Through this project, and his spin-off company Fieldwork Robotics Ltd, Dr Stoelen is also exploring potential business models that would bring the technology to market within three years, which could involve the machines being owned by contractors and farmers buying in the service when required.
This new work will build on the successes of Dr Stoelen's GummiArm robot, which has two arms and, in many ways, moves more like a human than a machine. At the heart of his vision is the concept of variable stiffness – robotic arms with joints that can be made soft or stiff, depending on the task.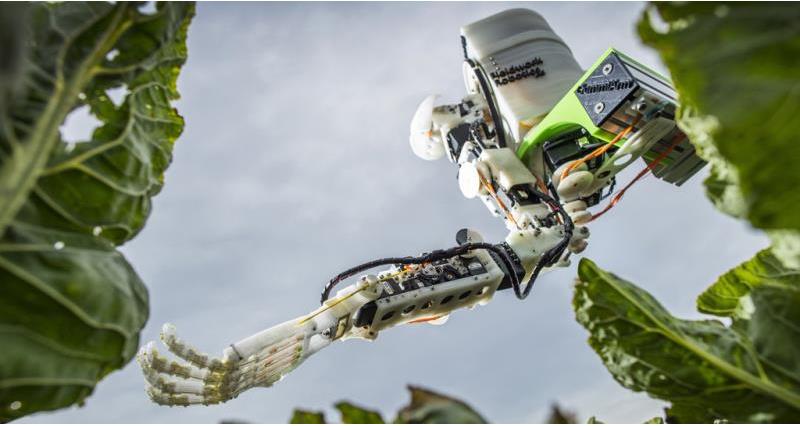 Cameras and sensors in its hands can make real-time 3D models of the crop by assessing the information it assimilates, allowing it to recognise what parts to collect and what to leave.
With such robots recording images and touch-data from all over a field, they also bring the possibility of gathering information that could be used in a variety of ways, potentially extending their application to beyond harvest.
Dr Stoelen said: "These robots are going to be a massive big-data application. Machines could even be repurposed throughout the growing season, allowing the core technology to be rolled out to other operations – such as weeding or the application of pesticides. If the robot is reconfigurable, it could be relevant to other brassicas and indeed other crops."

Established agricultural bots
Sector: Poultry
Although bird numbers have increased over the years, RLC and RM Harbord & Son have managed to continue to run the unit with one full time member of staff on their farm in Herefordshire.
Eggs were originally packed by hand but as numbers grew the business invested in a small packer, which packed 40 cases an hour. This was upgraded in 2010 to one packing 70 cases of eggs an hour and included a stacker. In 2012, the Harbord family invested in a robotic packer and hasn't looked back since.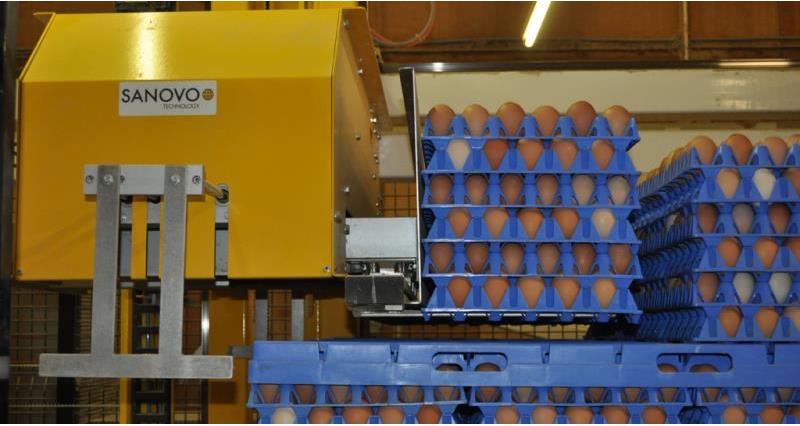 The robotic machine is an electronic palletiser, which works two dimensionally and is made by Italian company Sanovo. When considering the options regarding the machine, Lance Harbord said: "I looked at other machines including a robotic arm, however, that would work three dimensionally and require more space in the packing room. The machine I chose is two dimensional and requires less movement. I like simple machines that work well. This means there are also fewer worn-out parts to replace."
The robotic machine at Bryants Court Farm was the 12th machine like this to be made and the first in the UK. Although there were a few teething problems at first, Mr Harbord believes the benefits outweigh the initial minor issues.
He explained: "The framework arrived as one piece and appeared to be a lot bigger than first anticipated. It sat on a 20ft long pallet and we had to borrow longer fork tines to move it off the delivery lorry. One of the main benefits of having the robotic machine is that it saves labour costs. If I didn't have the palletiser, I would need to employ somebody else to help pack the eggs and pay their wages.
"Another advantage is that the machine increases flexibility in our work. For example, we can now stack the pallets five layers high, something which would have been difficult to achieve for anyone on their own."
When asked if he felt it was a good investment, Mr Harbord replied: "I wouldn't be without it now. I will look at other robotic machines in the future as I see real benefit of them in my business. If someone invented a machine to help collect floor eggs, I would be very interested!"