British Farmer & Grower Magazine
British Farmer and Grower is the NFU's award-winning members' magazine, sent to just under 50,000 farmers every month.
To read it online you need to be an NFU member. Click here to find out about joining us, and the range of other benefits our members enjoy.
NFU member? We've noticed that you are not logged in.
That means you will only be able to see a preview copy of British Farmer and Grower.
Click here to log in and access the full BF&G for your region.
You'll also be able to see what's going on in other parts of the country, and view back editions.
How to use your digital edition
If you are logged in, you will automatically see the current British Farmer and Grower for your region. Use the drop down menus below the magazine to see what's going on in other parts of the country or to view back editions.
Click on the arrows to the right and left of the magazine to turn pages.
Click (or tap) anywhere on a page to zoom in.
To zoom out, simply click (or tap) again.
Use the up arrow at the bottom of the panel to quickly select any page.
Use the down arrow at the top to print, make full screen or adjust other settings.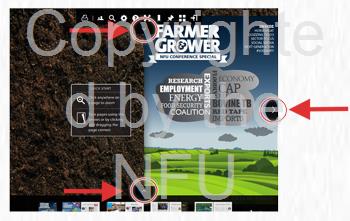 Magazine Archive