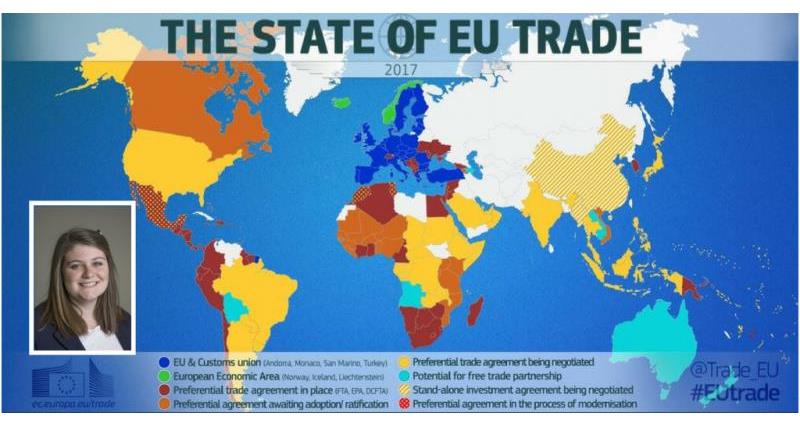 Tori Morgan, EU Exit & International Trade Adviser recently met with officials at the Department of International Trade (DIT) to discuss how the UK Government is planning to ensure continuity of trade with third countries once we leave the EU, she reports:
The EU currently has 40 Free Trade Agreements (FTAs) with around 55 different countries, some with single countries and others with groups of countries. The map shows who, where and in what state these agreements were as of 2017. When we leave the EU we technically will also leave all these agreements – as they only apply to EU member states. However in order to avoid disruption and the complete breakdown of trade with these countries –including disruption to the import/ export of agrifood goods, the UK is seeking agreement with the respective countries to roll these agreements over with the UK post Brexit.
Whilst each agreement is different they essentially provide access for EU exports into third country markets and grant reciprocal access for third country imports to the EU market. These FTA's go over and above any trade concessions countries are entitled to under the WTO and provisions usually include tariff reductions, preferential tariff rate quotas (TRQs) and arrangements which facilitate trade, making it easier. Many of these agreements are also wider than trade and have a political dimension to help countries and their economies develop.
The UK Government has taken a proactive approach to this issue and the DIT reported that currently the plan is that during the implementation period (i.e. until the end of Dec 2020) the UK would operate under the current EU agreements – as if we were still a Member State, but once the implementation period finishes the UK would operate on its own bilateral agreements with these countries. It is worth noting at this point this is all subject the UK and EU achieving a deal, under a no deal scenario where no implementation period applies we could see significant disruption to this trade from 2019 if we were not ready to operate on our own agreements. However this is something the UK Government is working hard to avoid.
These new bilateral agreements that the UK hopes to secure with its existing trading partners would simply replicate what is currently agreed between the EU and the third country. Replicating the duties agreed and in a similar way to the process of splitting the WTO TRQ's – you can find out more about this here, the UK will seek to split the TRQ's agreed in the various FTA's in order to take it's 'share'. However in some cases this isn't as straightforward as it sounds, for example during the reference period (2013,2014 and 2015) the Ukraine was experiencing a period of civil unrest so trade volumes are not reflective of current practises, and in the case of CETA – the Canada EU agreement, it wasn't in force so there is no data. Here the discussions will have to be more of a negotiation and the NFU will be watching closely to ensure our sensitive agricultural products are not put at risk.
This approach to continuation of FTA's has been agreed between the EU and UK but of course needs the consent of the relevant third country. The DIT reported to us that they have already spoken to all of the countries involved and have been making good progress, but as with any negotiation there is still a way to go before everything is agreed.
The NFU will continue to engage with the DIT, Defra and any other relevant government departments to ensure that officials and MP's understand the importance of continuing these long established trade flows to agriculture and avoiding any cliff edges as a result of Brexit.