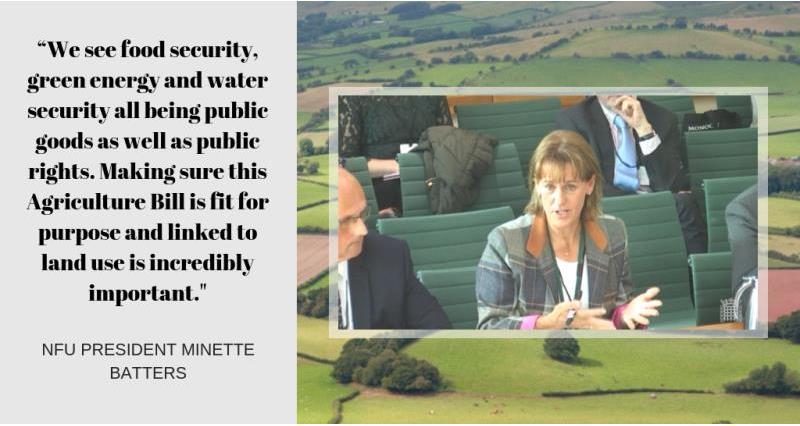 The Agriculture Bill provides a unique opportunity for farmers and growers to push for a framework that works for them. With the Bill now entering its committee stage, the NFU continues to ramp up its political engagement to ensure that Government is clear about the importance of legislation that encourages long-term productivity and sustainability for the British farming sector.
Evidence on the Government's Agriculture Bill has started this week with the NFU appearing in front of two influential parliamentary committees.
On Tuesday, NFU director of policy Andrew Clark and NFU Cymru President John Davies gave evidence to the Public Bill Committee scrutinising the details of the Agriculture Bill, and on Wednesday NFU President Minette Batters appeared before the EFRA Select Committee.
Mrs Batters told MPs that it's paramount that food production is at the heart of the Agriculture Bill.
She said: "This Bill offers the Government a once-in-a-generation opportunity to shape the future of farming policy. It must maximise the country's home grown food production capabilities. This will ensure farmers can continue to deliver sustainable food while maintaining our high environmental and animal welfare standards.
"We see food security, green energy and water security all being public goods as well as public rights. Making sure this Agriculture Bill is fit for purpose and linked to land use is incredibly important. It's hard to see at the moment how that can be achieved without the proposed amendments.
"You just have to look at the connected businesses to our primary industry and they are massively significant to rural Britain. This must be a whole chain approach. Farming is the bedrock of the largest manufacturing sector, food and drink, which contributes £113 billion to the country's economy and provides nearly four million jobs.
"British farmers and growers deliver the high-quality, traceable and affordable food that the British public expect and support. Getting this Bill right and making sure it's about agriculture and horticulture use will shape the future for the food industry and the jobs and growth associated with it for generations to come."
More links:
The Agriculture Bill - all the information in one place
Beyond Brexit: Farming for our future conference
NFU seeking urgent meeting with Government to discuss future of British farming